Retreat, Retreat, Retreat
Preview Image: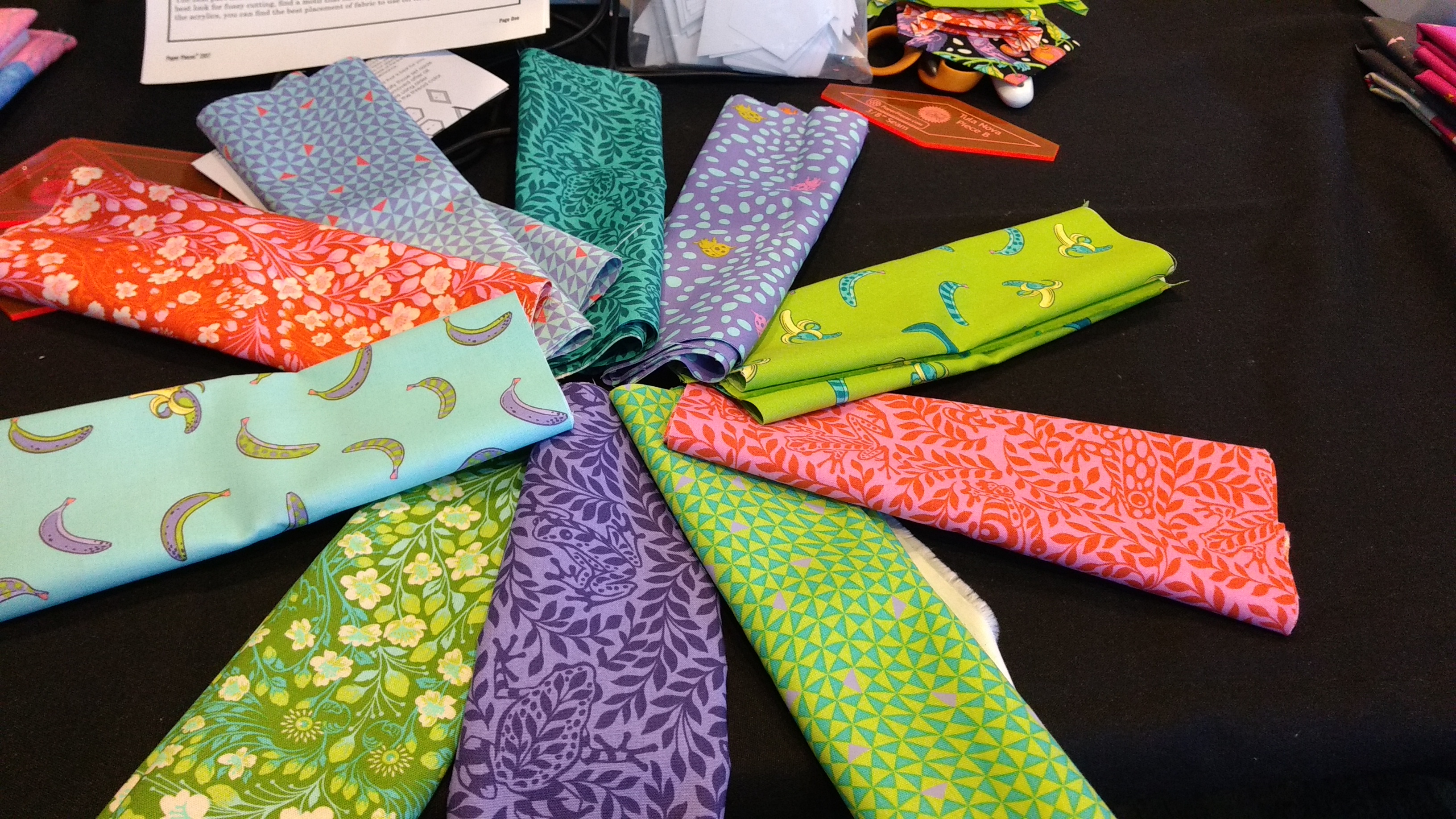 In September, I went on the Sew Fancy Retreat put on by Pink Door Fabrics. It started Thursday night with a talk from Tula Pink. This was the first time that I have seen Tula Pink, and I was blown away. She talked about business, color, fabric, schedules, process, family... It was wonderful and gave me quite a bit to think about.
I chose to drive in each day and pay for valet parking, as parking in Cherry Creek is not fun - pretty much ever. I was feeling my age each night though driving home after 10pm. The sewing lounge was open in the mornings and each evening/night after our class.
For me, Friday was Tula Pink's class and English Paper Piecing. This was my first time English Paper Piecing. Here's my in progress shot: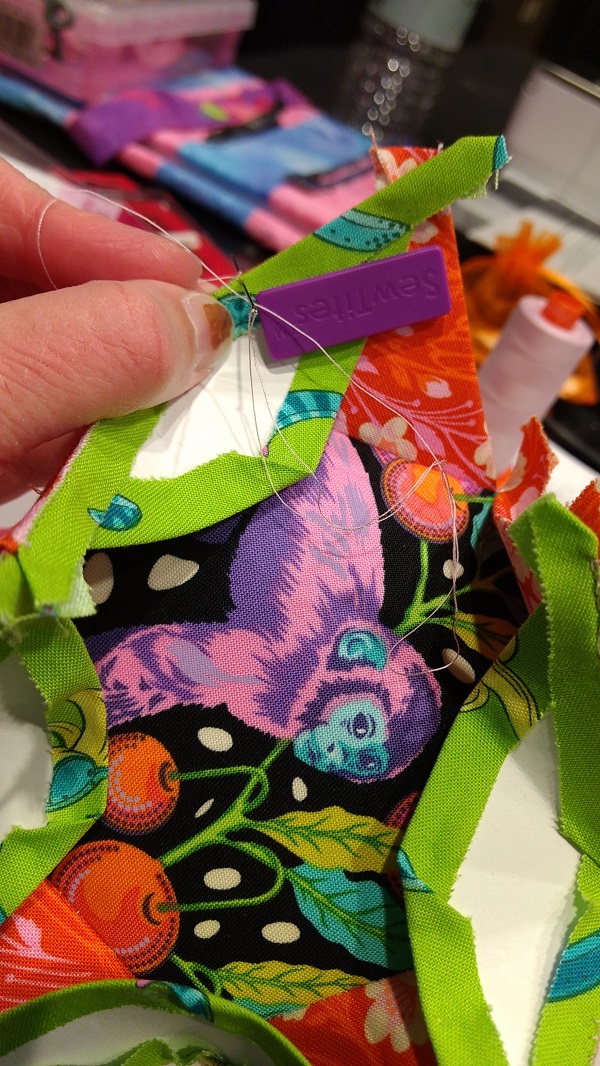 While at the retreat, I finished the center block to the Tula Nova quilt.
Saturday, I had class with Annie making the Running with Scissors bag. I learned a few tricks, and I sewed all day and well into the night. I could have finished while I was there, BUT my stupid bobbin ran out, and I didn't have any more energy at the end of the night to finish it up. I did not drive to the hotel on Sunday as most people were just checking out. I stayed home and finished my bag.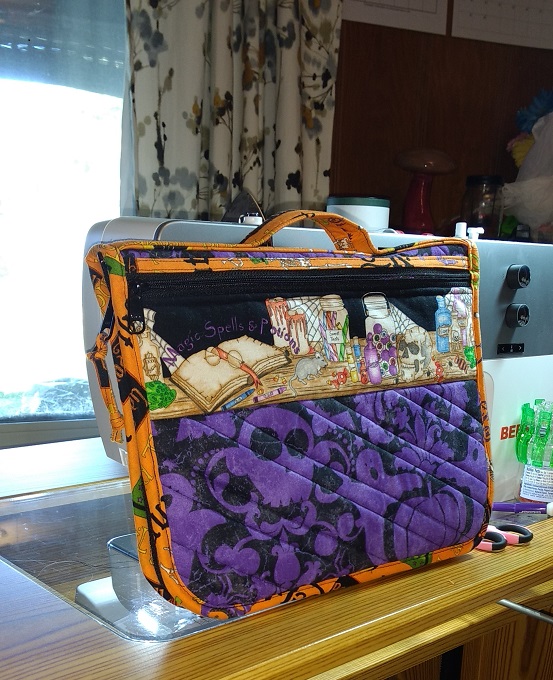 The set up of the retreat was great. We were split into 2 groups each group having a different class each day. We had time to socialize on the rooftop bar Saturday night. There was a pop-up shop in case we forgot anything OR we wanted to spend money. I spent a bunch of money I wasn't planning on. The food was great; the location was great; the organization was great. This was the first sewing retreat that I have been on. I would love to do this again.
Other things going on:
My October plans are suddenly seeming too big. I want to make the Laura Heine Jack Quilt, but I haven't even traced the pattern yet.
At the retreat, I bought Tula's 100 Modern Quilt Blocks book. I hope to make 2 blocks a week. So far, so good.
I finished 2 UFO's this week. Seamwork Rory.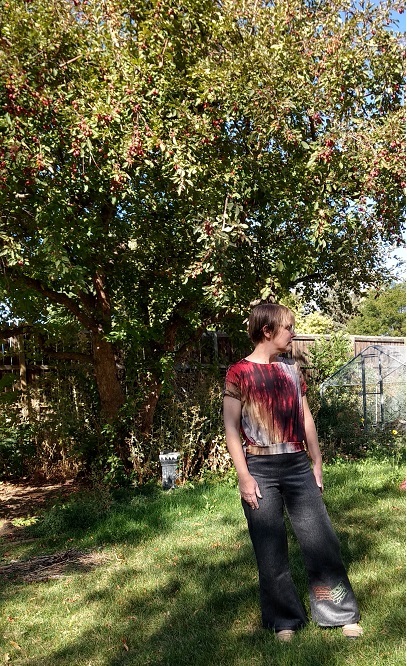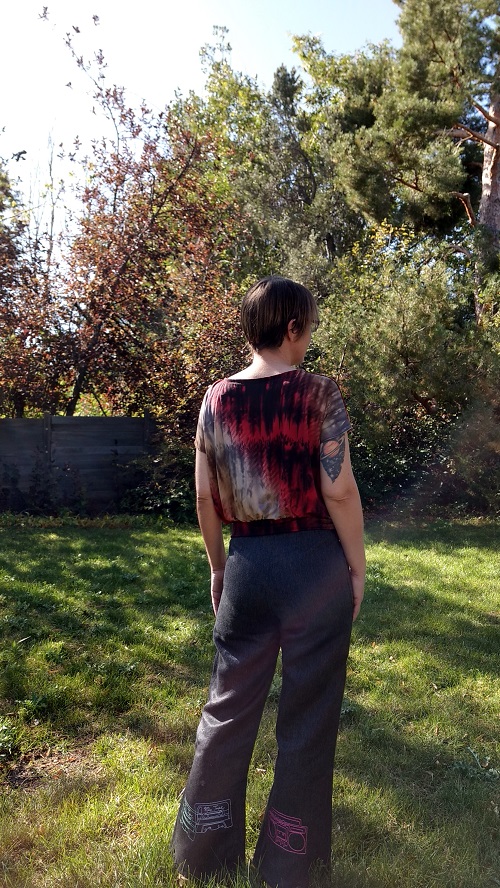 I don't see myself making that one again. The pattern was fine, but it is a cropped shirt, so it's VERY short. I am wearing super high waisted pants in the photo, and the shirt barely covers the waistband.
I also finished the Ella Top by Liola Patterns.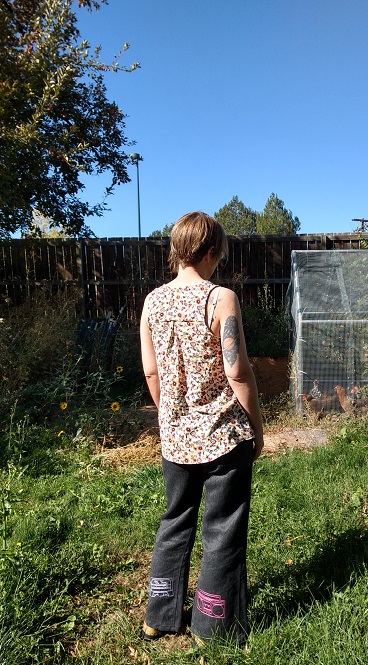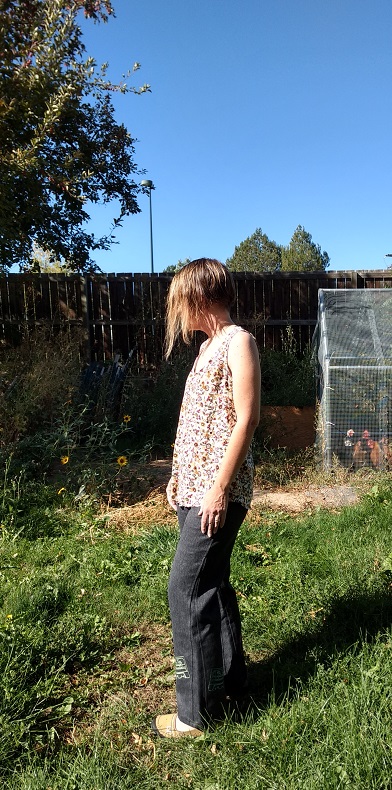 I made this out of a remnant of rayon. It was a fairly quick sew. Instructions made sense, and it fits like I think it should. I made this one as my muslin. The next one will be made out of barkcloth.
I've been sewing other things too. October, however, is already proving to be quite busy. I am hoping things slow down a bit, soon.
The October 2019 Sewing playlist is up. I've been listening to it these past couple of days. Here's the link:
https://open.spotify.com/playlist/7h9Div1qny4uAkjsyBgkb7?si=iXyNfQFFR9uFpF-DynrdzA
Currently, I am reading Siege and Sacrifice by Charlie N. Holmberg. It's fantastic.