Redwood Sew-a-Long Let's Gather Our Supplies
Hey everyone, I'm Sarah. Let's Begin!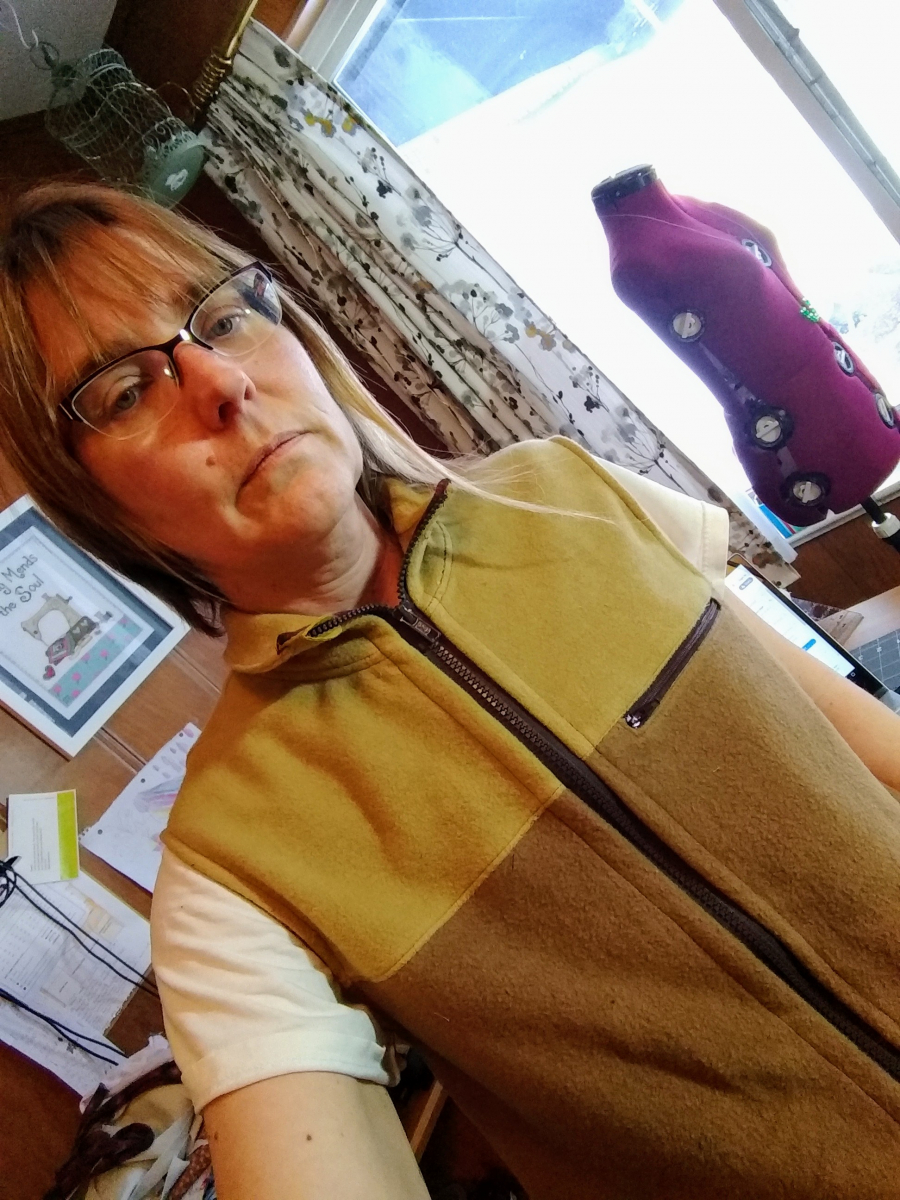 Don't have your pattern yet? Check your newsletter from Sew My Style for the discount code for the Redwood Vest from 5 Out of 4 Patterns.
It's time to gather your supplies. First decide if you want to make a color blocked version or not. For the first part of this series, I am making the color blocked version. I am keeping the colors simple - black and blue. Be sure to read the pattern for the different types of fabrics needed. I will say that for the bindings you NEED 50 % stretch and prefereable 4 way stretch. I will be using sweatshirt fleece for the outer and a hemp/cotton jersey knit for the lining and bindings.
The photo above shows my 2nd Redwood vest. It is also made of sweatshirt fleece. For the bindnings I used a knit that DID NOT stretch enough and it was miserable (but pretty).
Next figure out what pockets you want and if you want zippered pockets. I know zippers can be scary, but these ones really aren't much trouble. You'll also need to decide if you want to make the pocket flap.
For this sew-a-long I am adding hand pockets with zippers, but I am not going to do the chest pocket. My supplies are in the photo below. Double check the pattern for the proper lengths of zippers.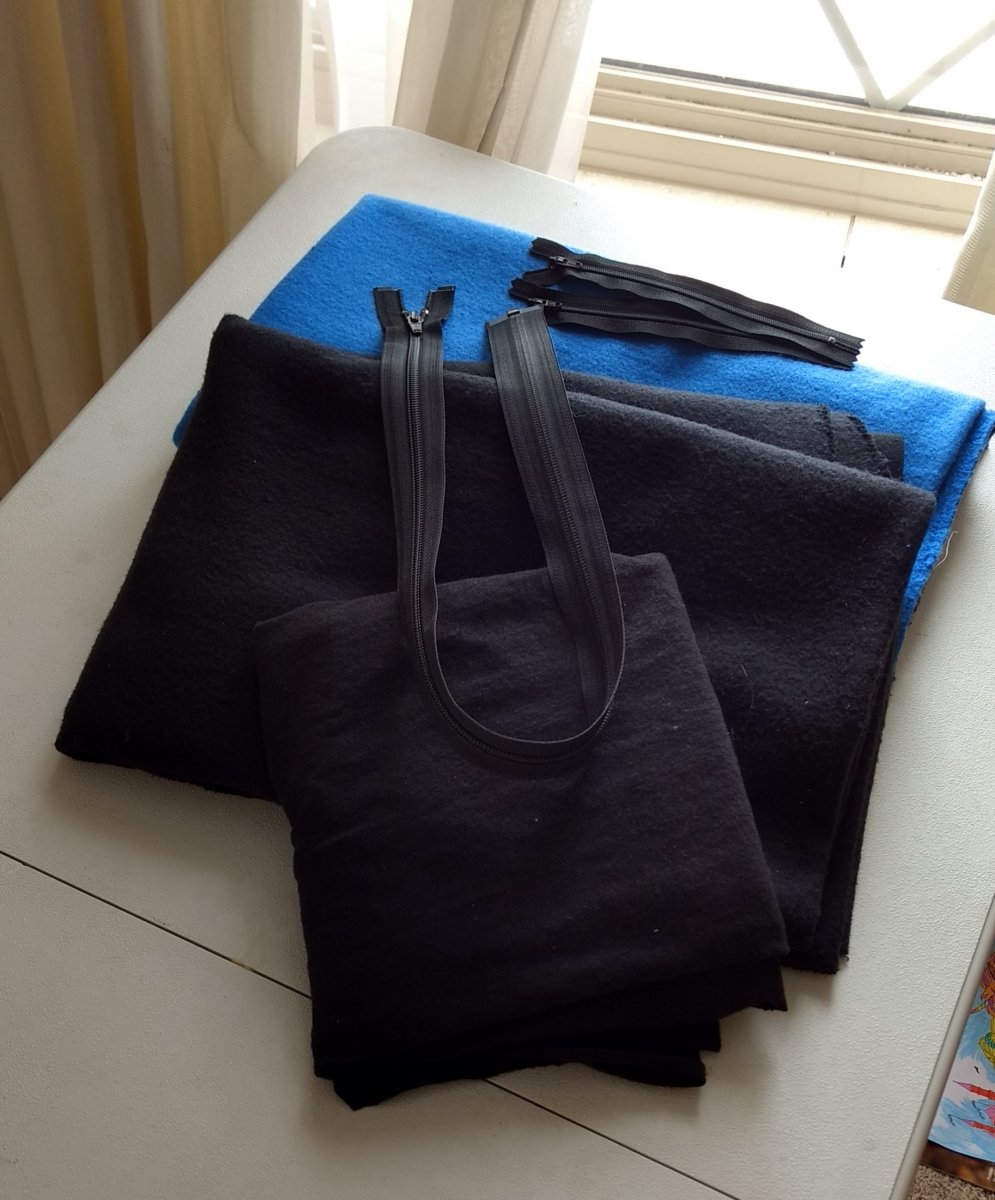 The Redwood Vest is sold as a men's pattern. This works beautifully for me for 2 main reasons. 1. I like clothes that are traditionally considered menswear. 2. I have no boobs and this vest has no darts or other shape fitting anything. If you are making this and you have boobs, you'll need to adjust the pattern a bit.
A note about sizing: I used the chest measurement to decide my size. I wanted to let the vest sit at my waist and not cover my hips. The vest is pretty much straight, there is no accomodation for a woman's hips. The brown one in the photo above is an extra small. It sits well past my waist and is snug in the hips. I think the vest is very long, and in the future, I will shorten it. I made an XXS for my 11 year old daughter. She likes how long it is. The one I'm making for the sew-a-long is for a friend, and it is a large. I measured him at 41.5" in the chest. I think the large is going to be too big for him, but I can't try it on him! I tried it on my husband whose chest measures 42.5". It fits him and is not snug. There is plenty of room for him to wear something underneath and move around comfortably.
Once you get all your stuff together, we can get started. I'd like to have the next post up on April 3rd. If you get behind, no worries! All these posts will be here when you are ready.
I'll post on Instagram when a new post goes live. Follow me @harazhandmade
New to Sew My Style? Learn more and join in here.
Sew My Style 2020 includes these talented sewists, catch up on their #SMS20 posts:
Aaronica @ The Needle & The Bell | Leanne @ Thready For It | Ari @ Max California | Minna @ The Shapes of Fabric | Carol @ Chatterstitch | Michele @ WinMichele | Julian @ Julian Creates | Florence @ FTMom3 | Kelsey @ Seam Lined Living | Kris @ Sew Notes | Laura @ The Specky Seamstress | Samantha @ The Rural Sewist | Sarah @ Haraz Handmade | Shelby @ Handmade Shelby | Simone @ Intensely Distracted | and SMS20 Coordinator Paulette @ Petite Font
To stay up-to-date with all the #SMS20 news, pattern discounts and inspiration, be sure to subscribe to the newsletter at Sew My Style 2020.
Now for the April Sewing Playlist. Ok, this one got out of hand. It's over 3 hours long. I decided since this is my birthday month, I'd put my favorite songs on the playlist. That means many songs on this playlist have appeared in other playlists. I also discovered that I gravitated to musicians and bands that I just found while I was making this, so some of this playlist is new to me. Guess I'm not stuck in that musical rut I was so afraid of when I was younger.
I am going to leave you with some Chris Cresswell from One Week Records. The other day I watched One Week Records host a live show on FB, and I was reminded how much I love what comes out of One Week Records. Thank you Joey Cape!
And, if you are a book nerd like me, I'm currently reading House of Earth and Blood by Sarah J. Maas. I'm also listening to The Lady from the Black Lagoon: Hollywood Monsters and the Lost Legacy of Milicent Patrick by Mallory O'Meara.