Long John Jammers For Everyone!
Sew My Style has been a goldmine this year!
At the beginning of October, I thought I'd make my family all matching Long John Jammers! Silly me. We all wanted something different.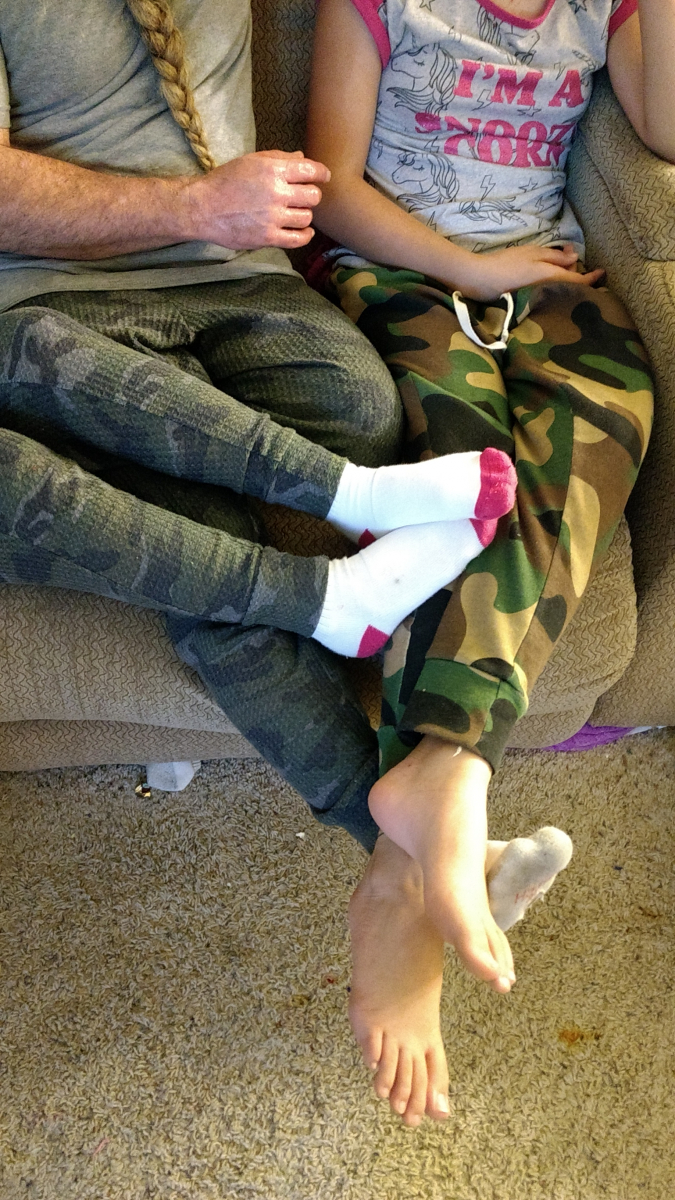 Long John Jammers is a pattern by Rad Patterns, and they are pretty rad and crazy easy to sew up. Prepping the pattern took me some time though as we are all pretty short in my house. I traced almost every size of the women's pattern onto Swedish Tracing Paper. I ended up making a total of 7 pairs of LJJs.
I started by using my actual measurements and making a pair out of orange waffle weave. For this pair, I took out some inches in the length, but I didn't change anything else. I also chose the yoga waistband. They fit great EXCEPT, I did not take into account how little recovery the fabric has. The waistband is much too loose, but the pants themselves fit great, so they won't fall down. I made these size small in the women's pattern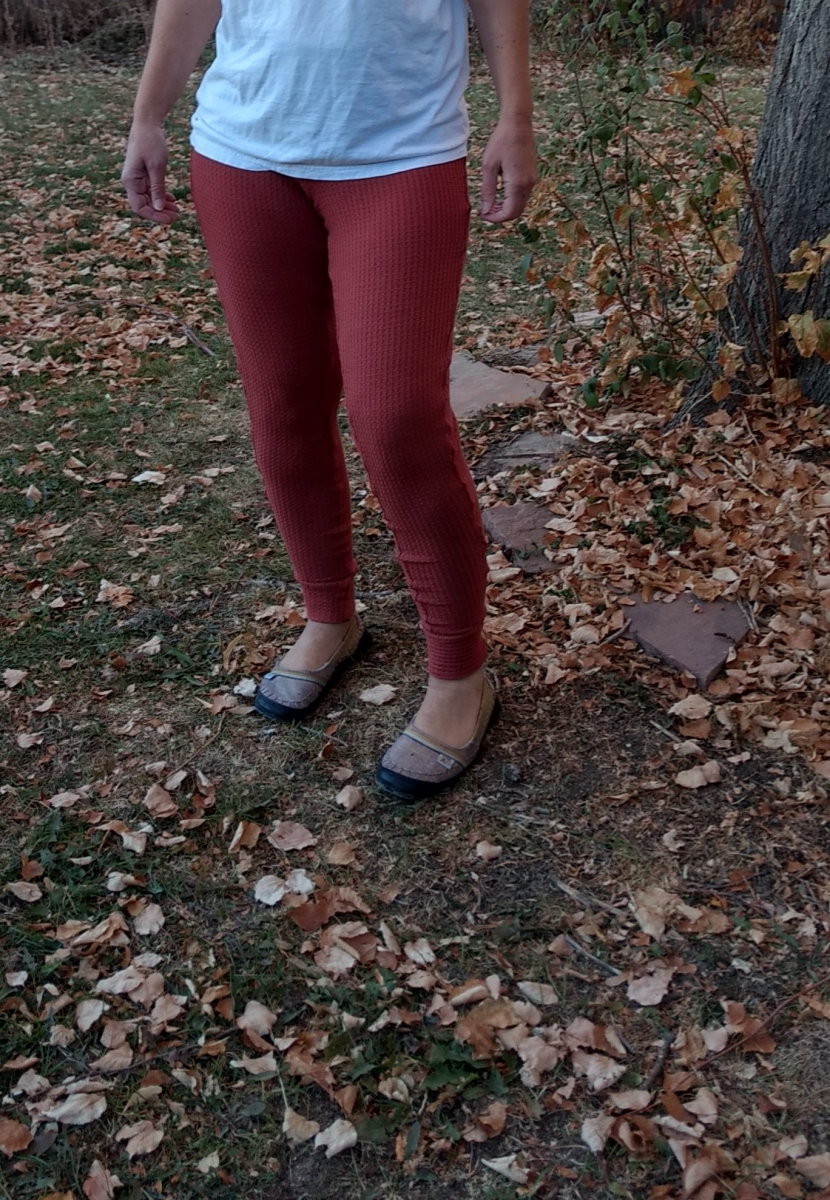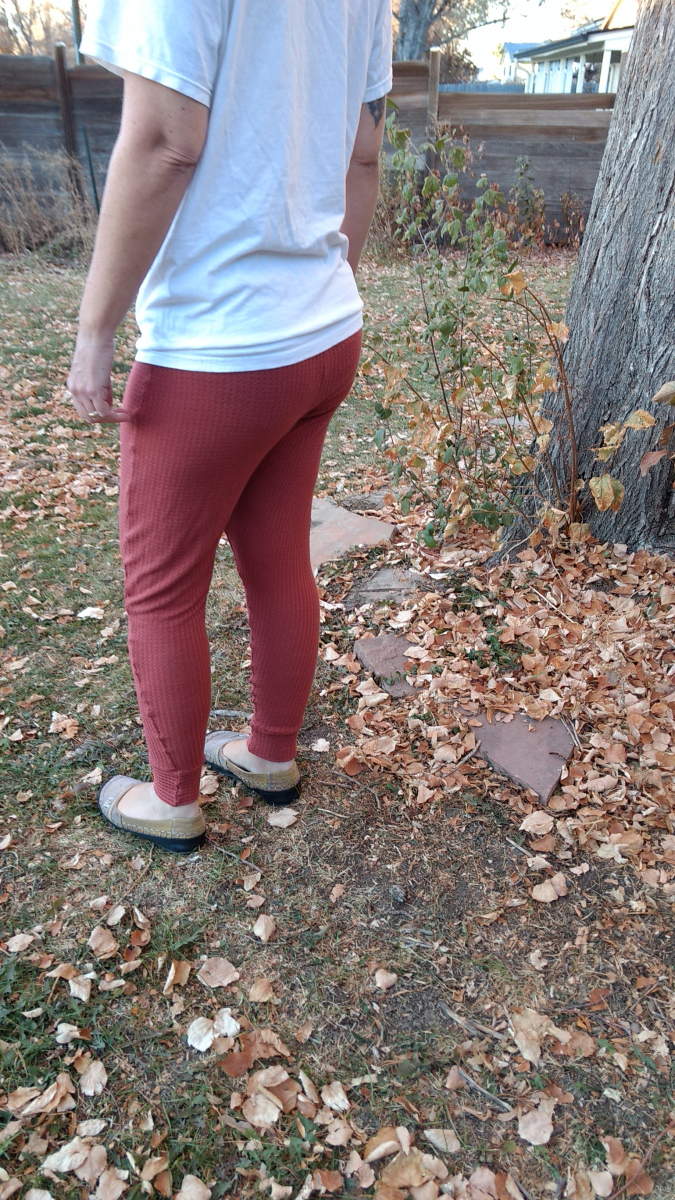 Next up - I made myself a pair out of some wonderful hemp/organic cotton knit fleece from Hemp Traders. This fabric is so soft and wonderful. I have worn the pants every night since I made them. Anyway, I sized up to a large for this pair and chose the drawstring waistband. When I have to pee really bad, I kick myself for not making them with the yoga waistband.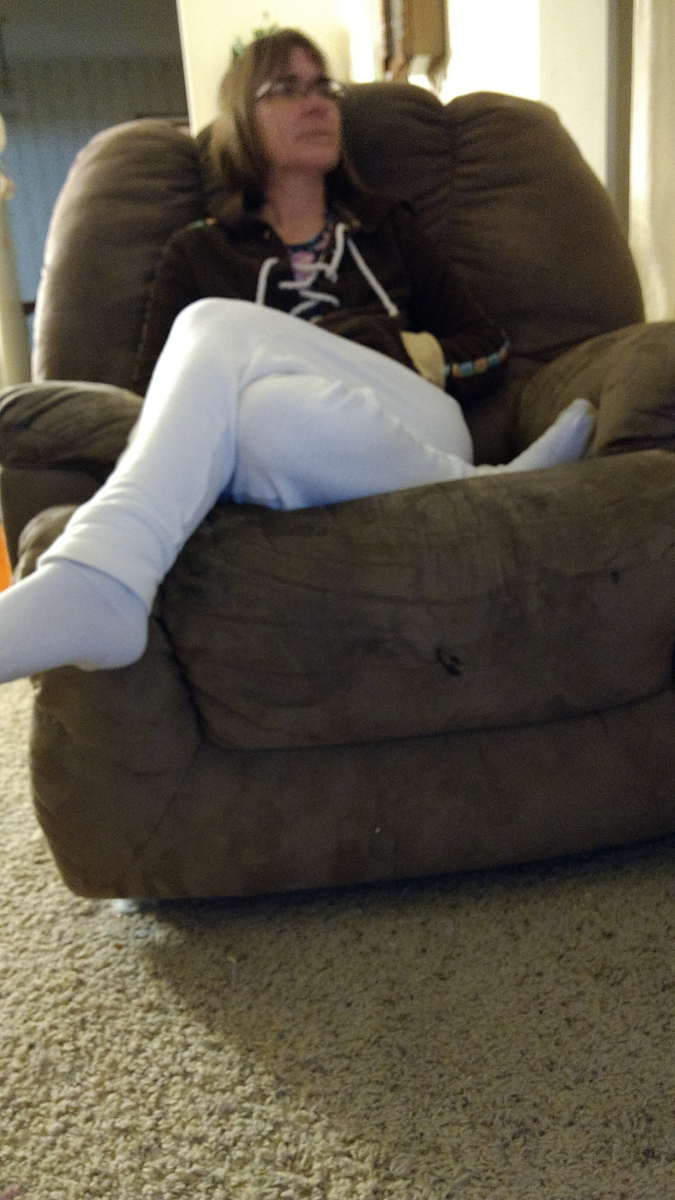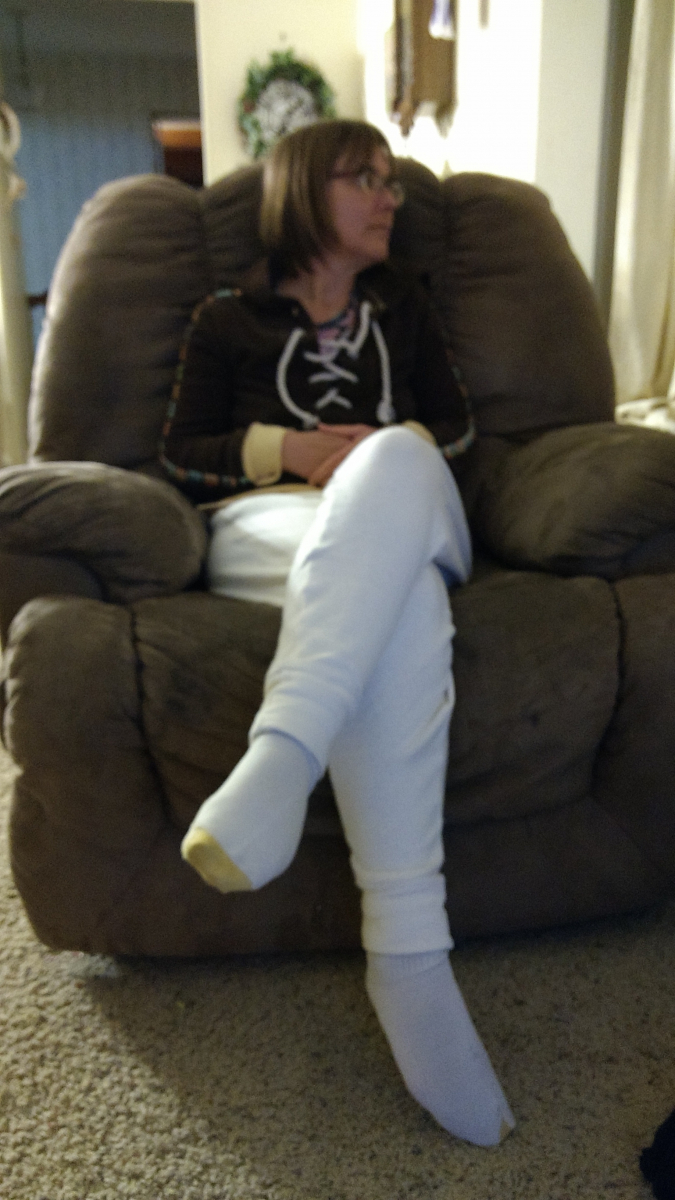 After that, I started making them for everyone else. My husband and youngest daughter chose the same fabric. For the youngest, I wanted them to be easy for her to wear. I chose yoga waistband. Hers and my husbands are both made out of waffle weave, but I learned my lesson from the orange pair, and I cut their waistbands out of a knit that has great recovery. I used the women's pattern for this pair. She's pretty small, so I took out LOTS of length. It was weird, and I was worried it was not going to work out, but it was fine. Hers fit great. I made them XXS.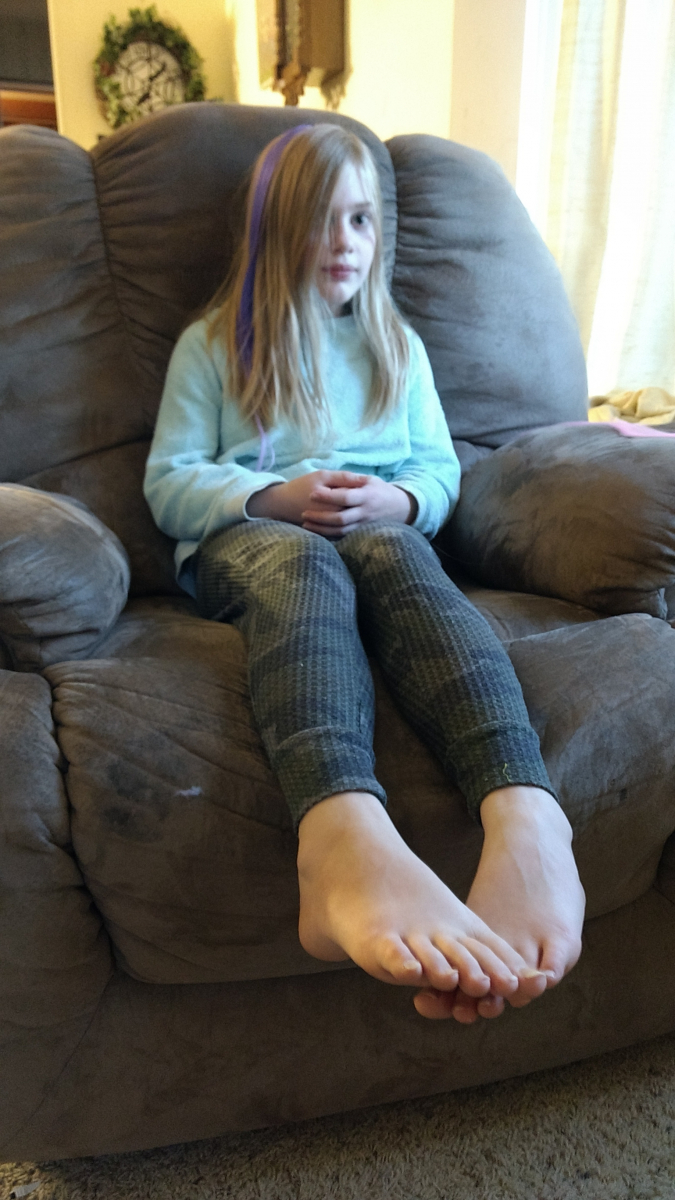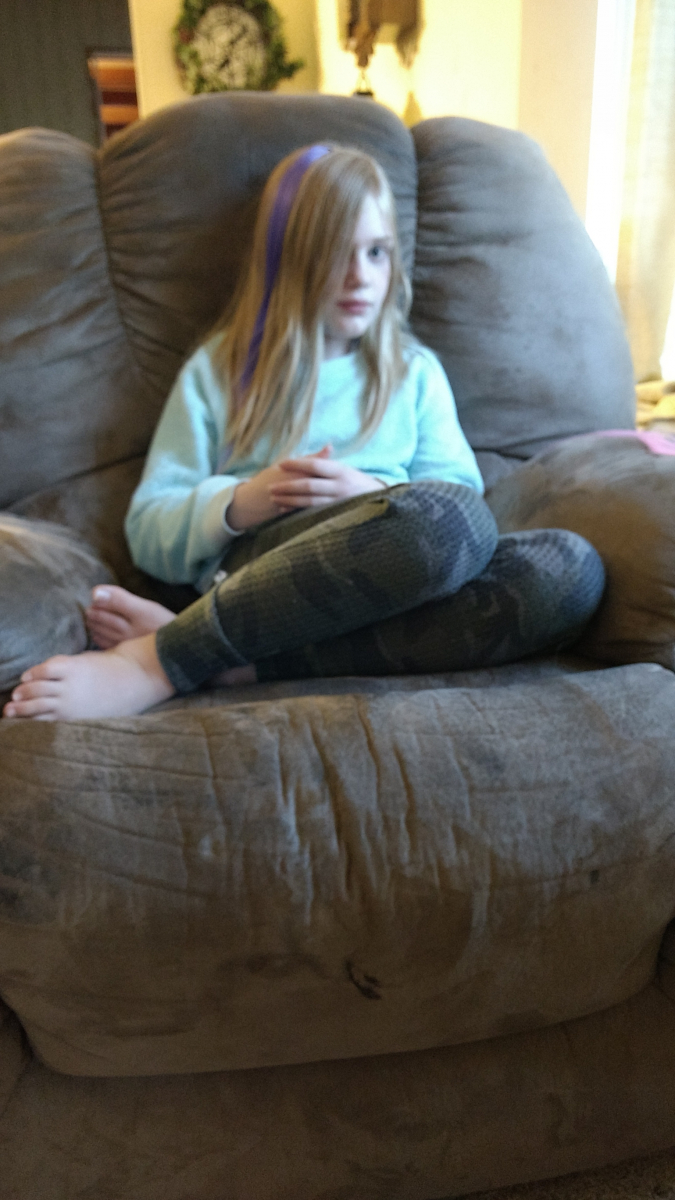 Next up was a pair for my middle daughter. She wanted sweatpants and chose a sweatshirt fleece. I made her a medium, and again took out lots of length. This time a bit too much length. They fit just fine, right now. Hers I made with drawstring. They look super comfy to me.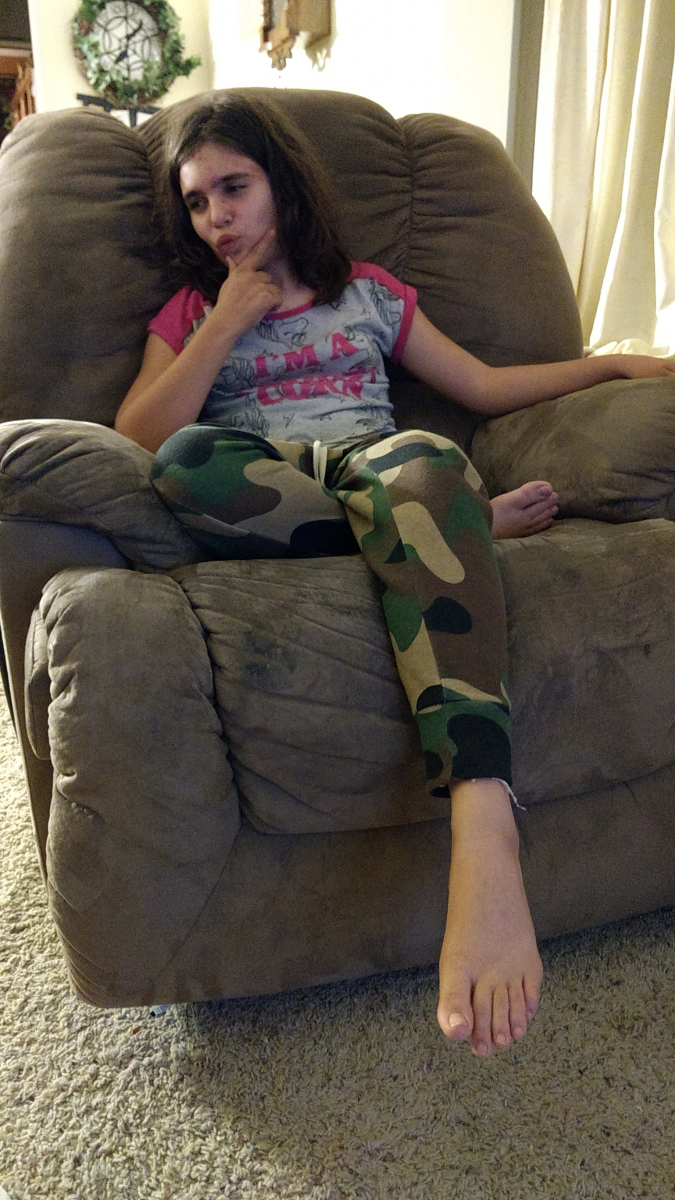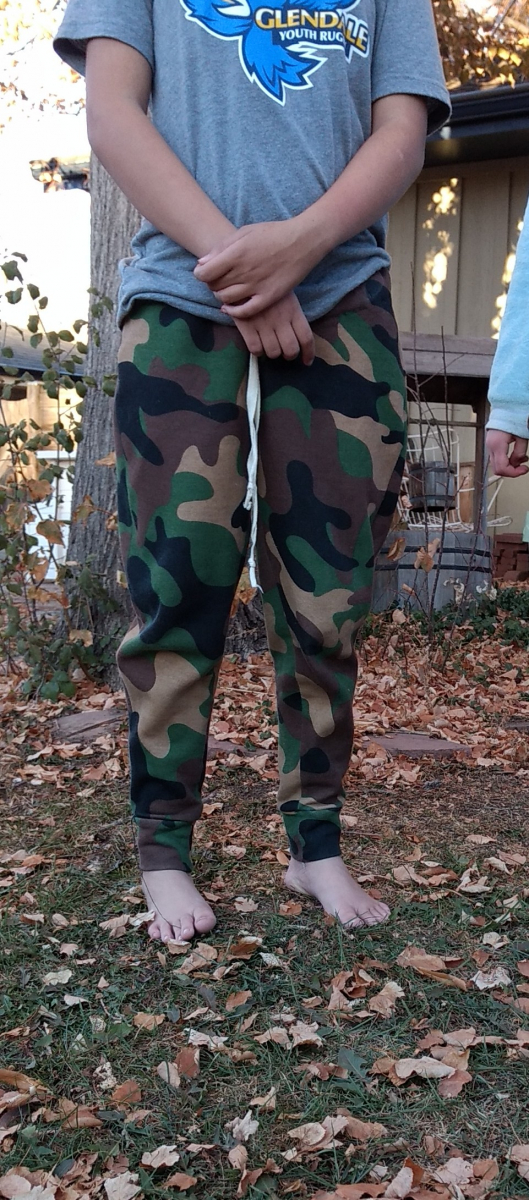 I also made a pair for my oldest who is away at college. She wanted sweatpants too, but the fabric she chose had very little stretch, and I was worried. I made hers with a drawstring because I wanted to be sure they would fit her and with her being in another town, it seemed best to go with the drawstring. I realize the photos make it look like I matched the stripes. I did not. I did try. It did not work.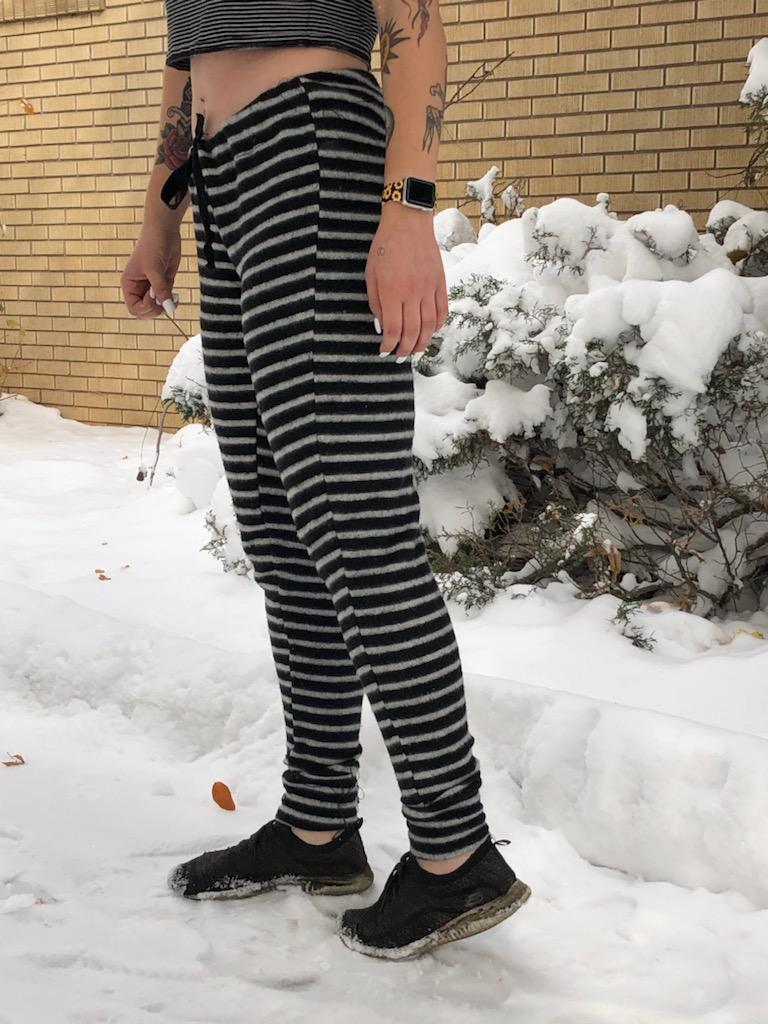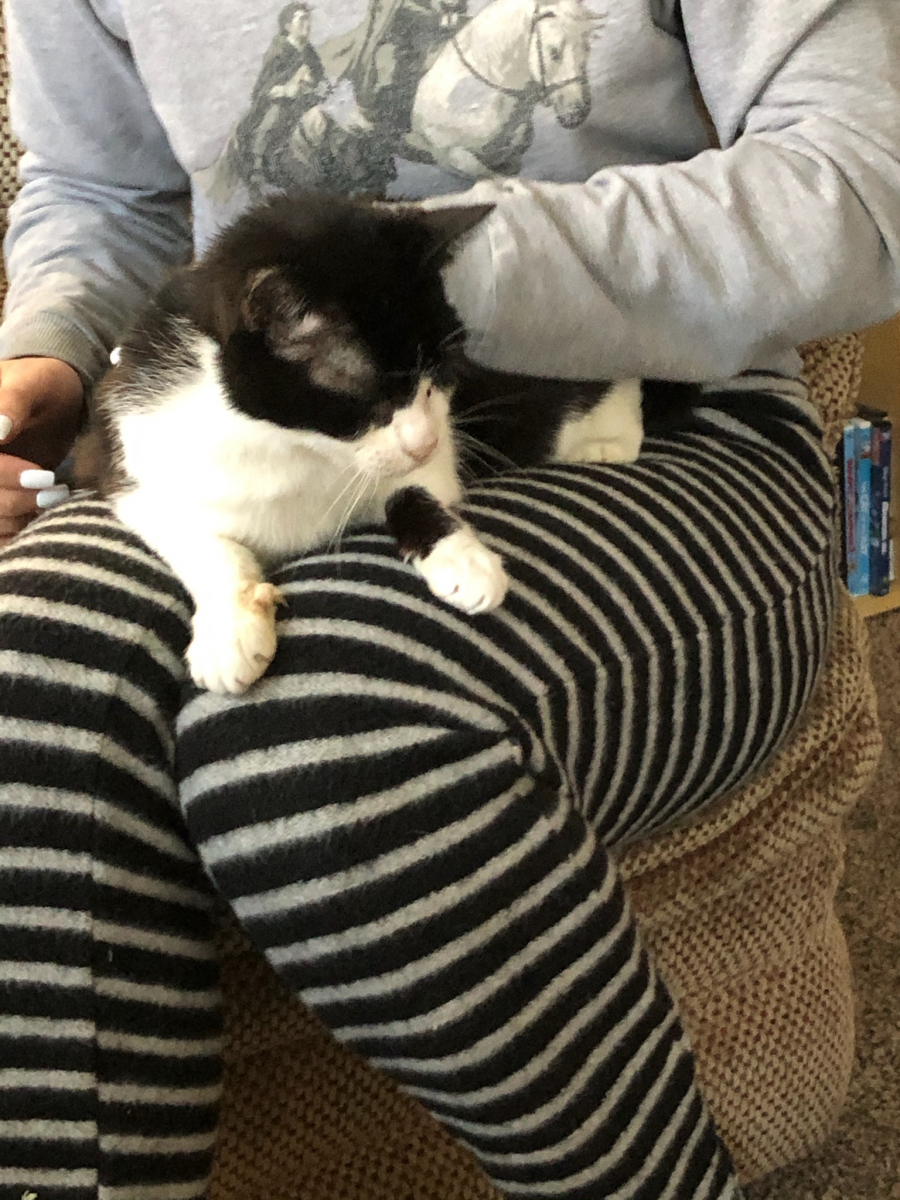 My husband's were the most challenging. I made his first pair out of waffle weave and according to his measurements in the men's pattern. They were baggy and he wasn't super happy with them as he wants to use them as Long Johns. For the second pair, I sized down, and I shortened the crotch length. I kept the leg length the same on both pair, but that was super shortened too. Because I took out so much length, I tapered them differently in order to make them more snug. The second pair worked out perfectly. On the first pair, I used a yoga waistband from a knit with good recovery. On the second pair, I used 1" elastic at the top instead of a waistband. He really likes that.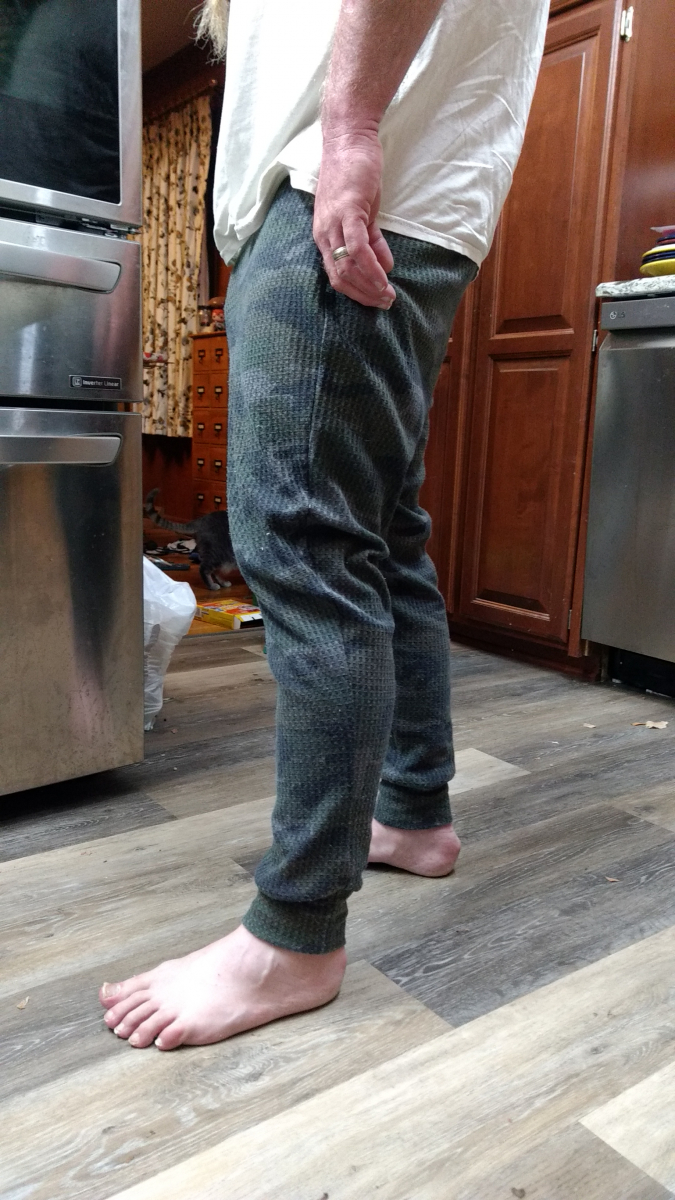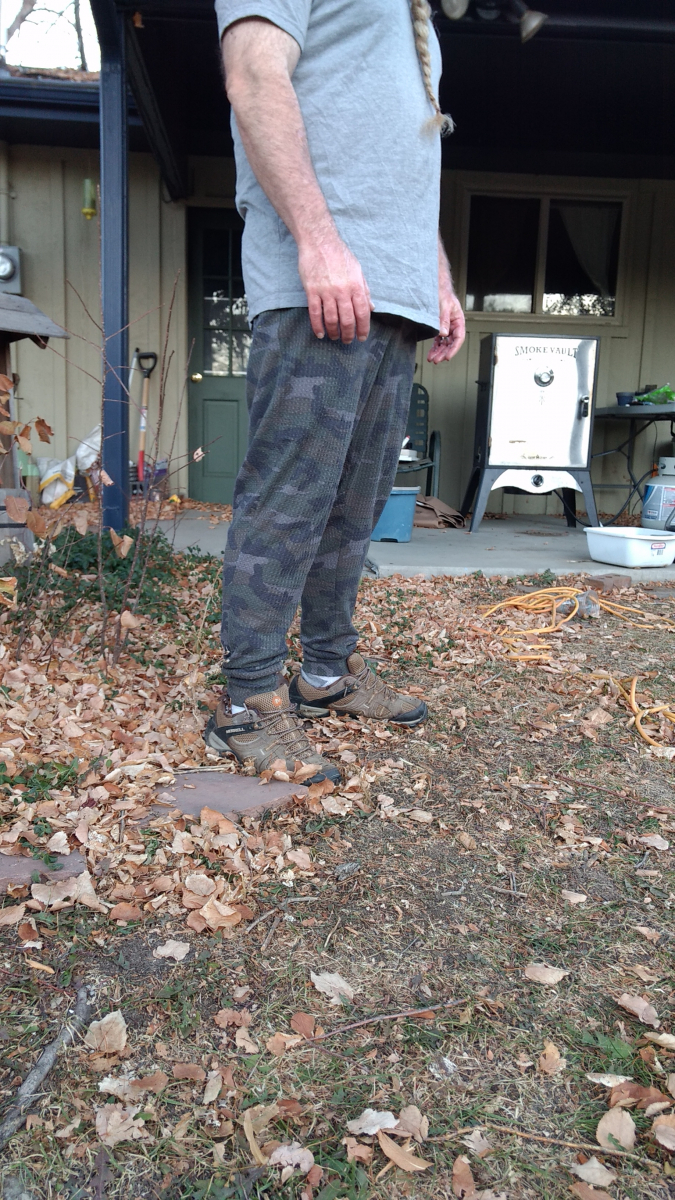 Oh, and check out this crotch match!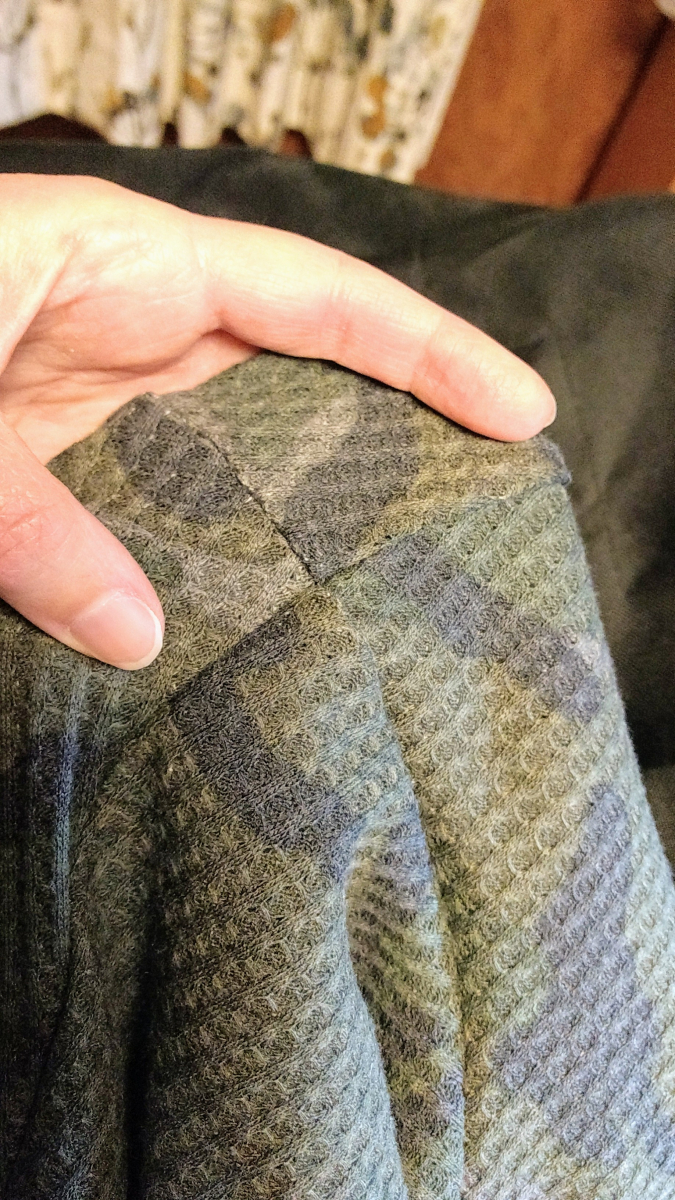 I am so glad I started using the Swedish Tracing Paper. It makes everything SO much eaiser! This pattern is a win. Everyone loves their pants. I made them on my serger except the end of the drawstring ones as I needed to make buttonholes and topstitch the casing.
New to Sew My Style? Learn more and join in here.
Sew My Style 2020 includes these talented sewists, catch up on their #SMS20 posts:
Aaronica @ The Needle & The Bell | Ari @ Max California | Minna @ The Shapes of Fabric | Carol @ Chatterstitch | Michele @ WinMichele | Julian @ Julian Creates | Florence @ FTMom3 | Kelsey @ Seam Lined Living | Kris @ Sew Notes | Laura @ The Specky Seamstress | Samantha @ The Rural Sewist | Sarah @ Haraz Handmade | Shelby @ Handmade Shelby | Simone @ Intensely Distracted | and SMS20 Coordinator Paulette @ Petite Font
To stay up-to-date with all the #SMS20 news, pattern discounts and inspiration, be sure to subscribe to the newsletter at Sew My Style 2020.
In other news, I'm behind on the Tattoo Quilt which stinks. I didn't even make this month's bag for Bag of The Month, and I've yet to sew up the garment I really wanted to make this month. I did make a bunch of cool Halloween decorations, though. I haven't planned out November's project yet, so we'll see how that goes.
I also decided to join the Jesuit Refugee Service in their 40 miles in 40 days for refugees. I will say counting my steps every day is fairly depressing, but keeping my mind on refugees is important. I am thinking about people all over the world trying to find their way after being forced out of their homes by war and political upheaval. I've been talking to my students more about refugees too. I don't know how to make the world a better place especially for displaced persons, but I can try to do my part and pass on the knowledge to my children and students.
November's Playlist is nearly ready. Nearly. Click here.
I bought Ultra Mono by IDLES when Bandcamp had their day for the artists to get all the proceeds, but I didn't listen to it all the way through until today. It's FANTASTIC. So here's a track: