Summer Quilt #3 and the "other"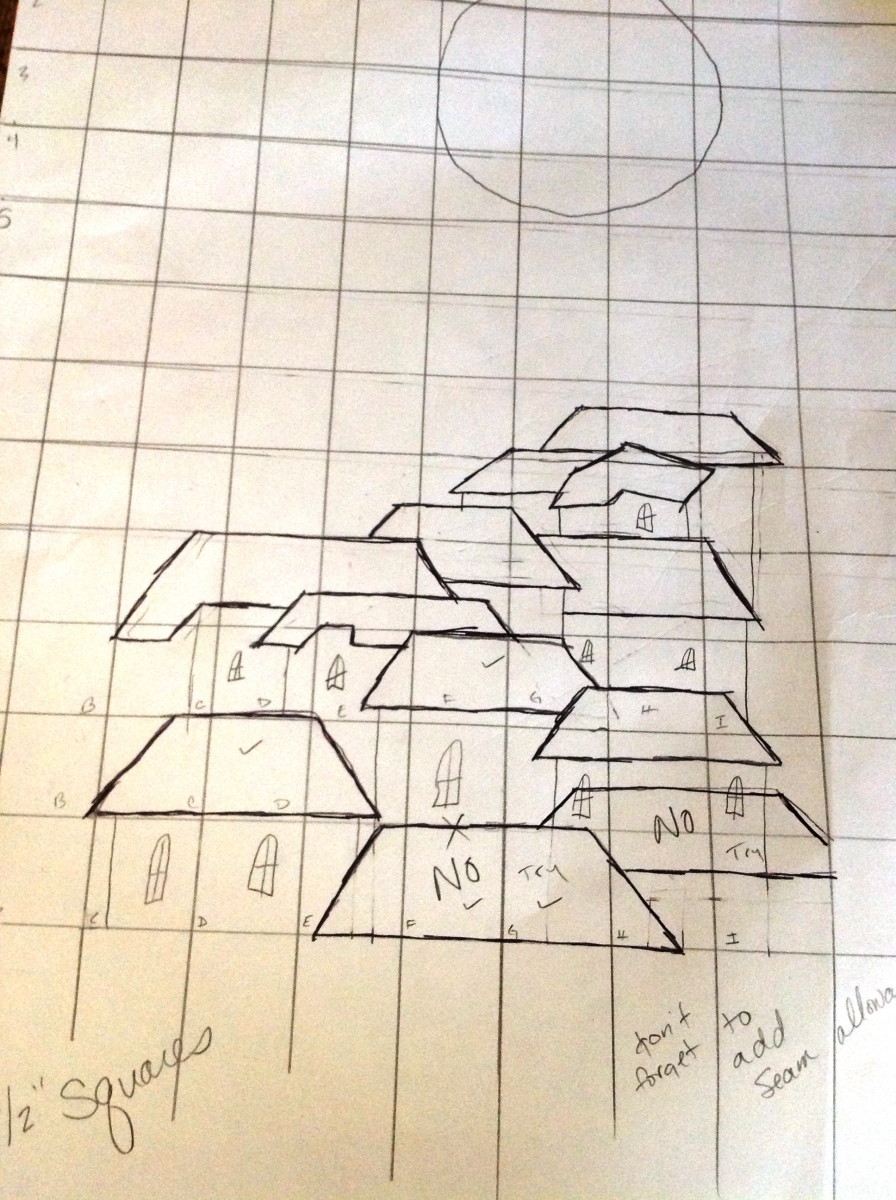 I got pretty far in the design of Summer Quilt #3. I found some colors I like and a lot of colors that don't work. So many, that I am going to need to make a Whoops! Quilt I think because I bought a bunch of the fabric before I knew if it would work.. I also started designing another summer quilt which brings me to 5. I know, I know, I shouldn't deviate from the plan, but it's clanging around so loudly in my head that I can't ignore it. I ordered fabric for both the "other" quilt and Summer Quilt #3 including backing fabric for both. I also bought some fabric locally, so I should be really good to go at this point.
Summer Quilt #3 is my "Under The Sun" quilt. "Under The Sun" is a song by Shades Apart. It was the only Shades Apart song that I knew for years. As far as I know, it only appears on the Revelation 100 – 15 Year Retrospective of Rare Recordings album. You can listen to a clip of the song on Amazon here or you can buy the album at revhq.com. It's well worth the $4.50 they're asking. I listen to "Under The Sun" and "Dark" by Farside more than the others, but there are some great songs on it. Sick of It All "My Life" keeps coming on my iPod so does The Gorilla Biscuits "Do It Yourself." I never listened to Garrison, but "New Habits For Old Friends" is an awesome song, and of course I will always love Youth of Today. You should check it out instead of me droning on and on about it. Here's a live clip of Shades Apart:
"Under The Sun" is a beautiful song. It reminds me of growing up in neighborhoods where the only colors of houses were variations of brown and every street had the same name except one was Drive, and one was Place, and one was Circle. Let's not forget that individuality was frowned upon and appearance was everything.
The idea for this quilt came to me soon after the "Broken Pieces" quilt, and it got all mixed together with the movie Lost Angels. I've seen Lost Angels a million times, but I haven't watched it in years. I own it on VHS, and I probably need to upgrade to DVD at some point. I am considering re-watching it, but I am afraid that what is in my head is not really in the movie. Here is the trailer for it:
At the end of the movie Adam Horovitz's character jumps out of a car and runs up to his mom's new house. The house is in a brand new neighborhood where all the houses look the same. This is the neighborhood I want to recreate on my quilt.
I've decided I need to appliqué the roofs. I was hoping to piece it all, but I can't quite wrap my head around all the different sized pieces I would need.
"Under The Sun" has been up on the wall for a few days, but the roof tops have changed since I put it up, so I need to work on fixing that. The fabric should arrive tomorrow, and I want to be able to get started soon. I haven't quilted since the 7 Seconds quilt was finished. The picture is only of the partial quilt. So much of it will be blue sky that I didn't feel the need to tape it all up there.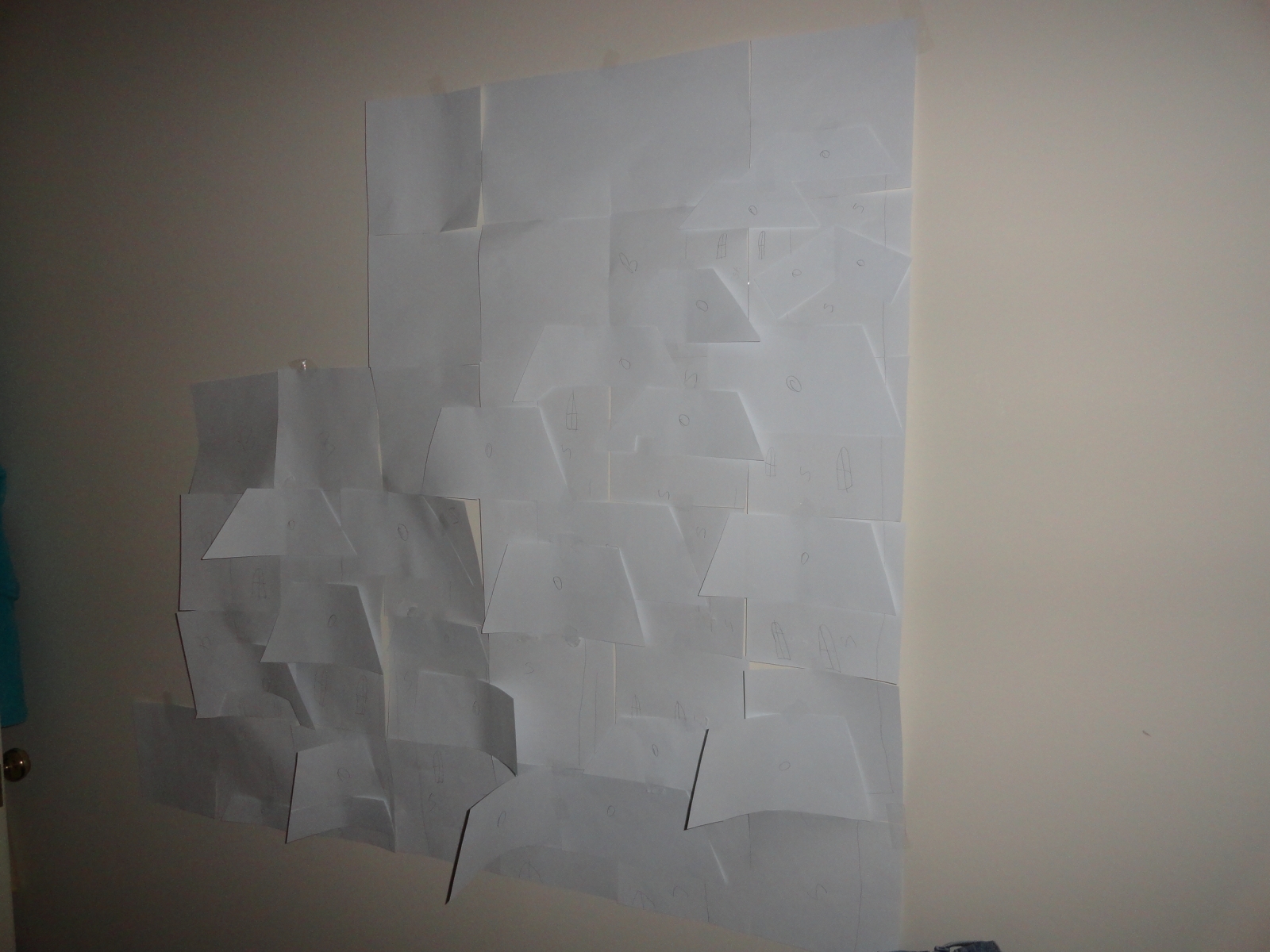 The "other" quilt is a Gates Rubber Company quilt. All of the Gates buildings are almost down at this point. I was down there last week sometime and we could still see the demolition going on. I am sad to see all of it go. Click here for a great slide show of the Gates complex. This quilt will be my reminder of what it looked like to me. The Gates quilt will be roughly 60" x 60". The "Under The Sun" quilt will be the same size as the "Broken Pieces" quilt which was…well, I don't remember, something like 54" x 72". It's big enough to wrap around my shoulders and wear it like a Queen would wear her fancy robe.
Hopefully, I will have more pictures soon. In the mean time here's a song by The Deviators:
When the word deviate came into my head for this post, I immediately thought of them, and I looked them up on YouTube. I have yet to put my 7"s on the computer. Thank goodness someone posted them on YouTube. Also, while I was looking them up I came across this awesome interview with Pablo Medina. Check it out here.
By the way, why in the world does Amazon make every song EXPLICIT? I mean, seriously? Do they just decide based on type of music?