The Mahina Cardigan Test!
Preview Image: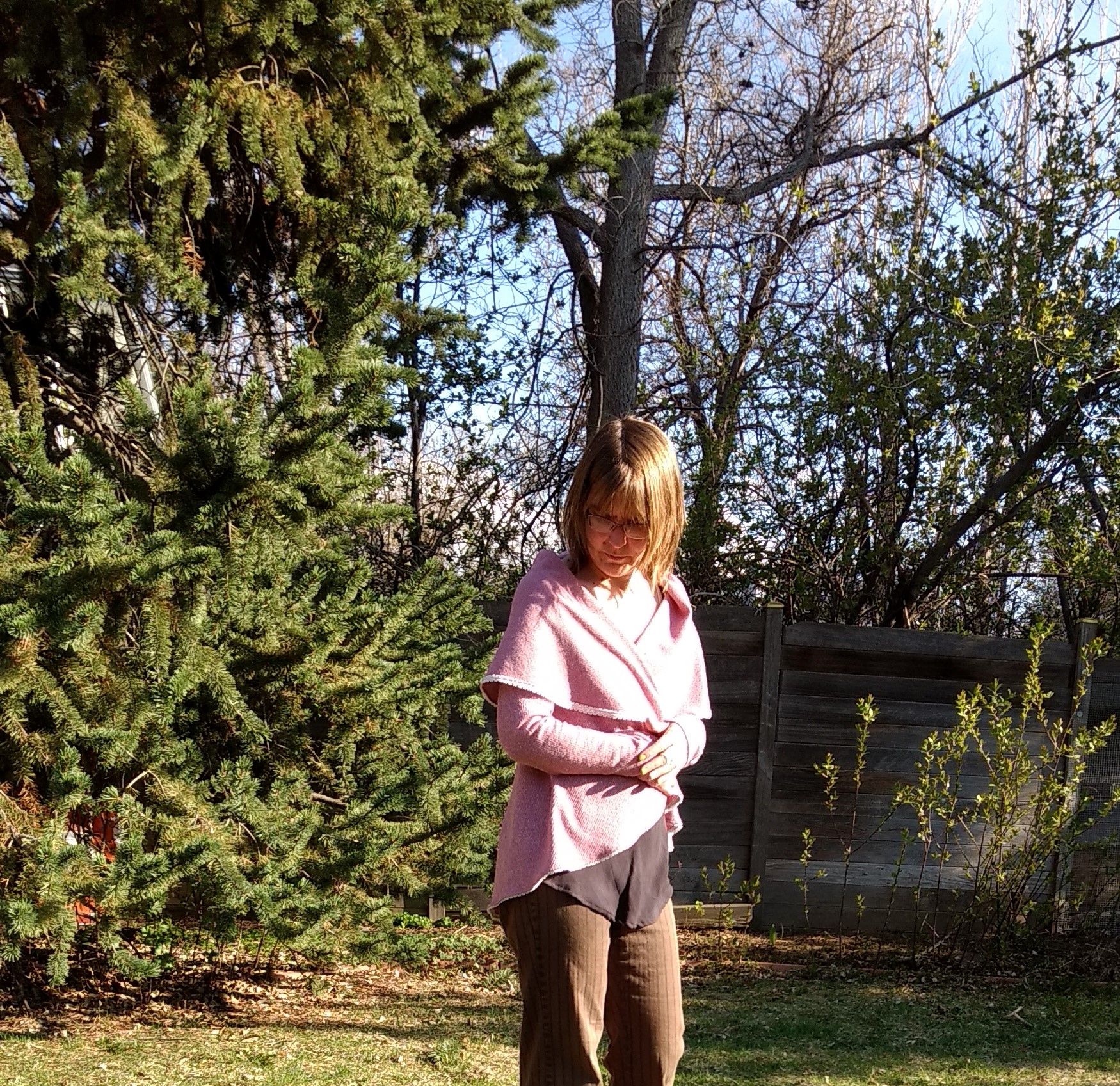 Soooo................I got to test the Mahina Cardigan Pattern by Scroop Patterns. Yay!
Since I was a tester, I made the trial version which is a little different than the final version.
When I found out about being a tester, I spent at least an hour pouring over fabrics at Colorado Fabrics. I settled on two poly textured knits. I wanted to be able to try it out on something not terribly expensive in case I screwed it up. When I was done with testing the pattern, I had 3 cardigans. I SO want another.
The first one I made was View A. This one was made with a blue textured knit that only has about 25% stretch. It fits snuggly, and I can't wear much under it. In the photos, I am wearing a rayon cami underneath.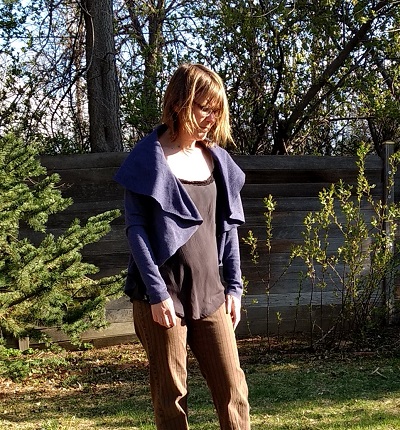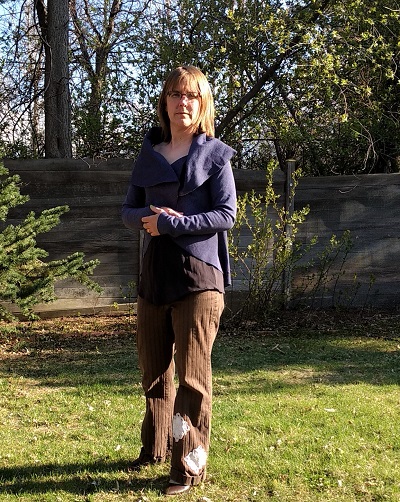 I chose not to finish the edges of this one. The knit is SUPER close, so it works fine. Everyone in the family likes this one the most. I like this one the least. The knit is just not stretchy enough for me, and this one is not soft at all.
Up next I made View B and I went up 2 sizes, so that I could wear it on top of regular clothing. Again, I chose not to finish the edges as the knit looks great without it. This fabric had more stretch. This one is more like 30% stretch. The color is amazing, and it is pretty lightweight.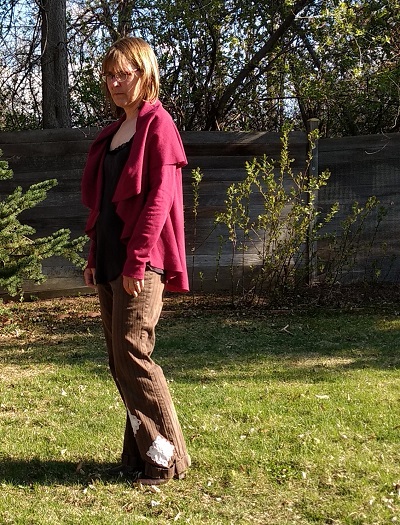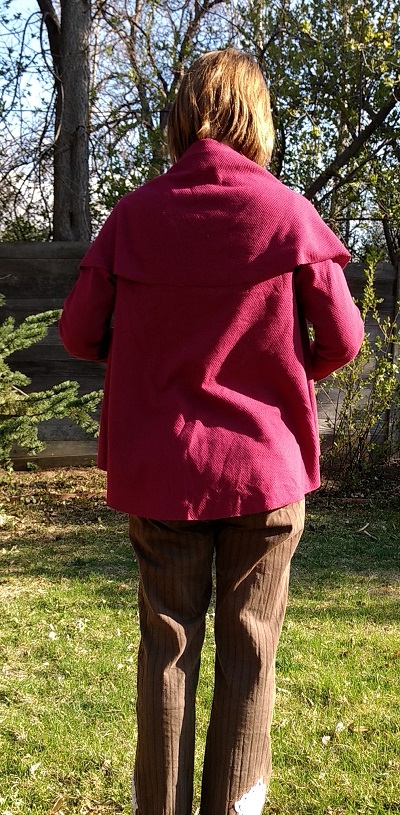 View B is for sure my favorite. This one is SO comfortable. I wasn't super happy with my fabric choices, so I went and bought some super soft ribbed knit, and I went and got myself some thin stretch lace. The pink fabric has about 40% stretch. By the way, I found the greatest Etsy shop ever. It's called LaceAndTrims and I can't help but buy lace, elastic, and grab bags of ribbon, etc. This summer my goal is to make things and then embellish the crap out of them with all these bits and pieces I keep buying.
Anyway, my 3rd version of Mahina is View B and the same size as the red one. It is soft and beautiful.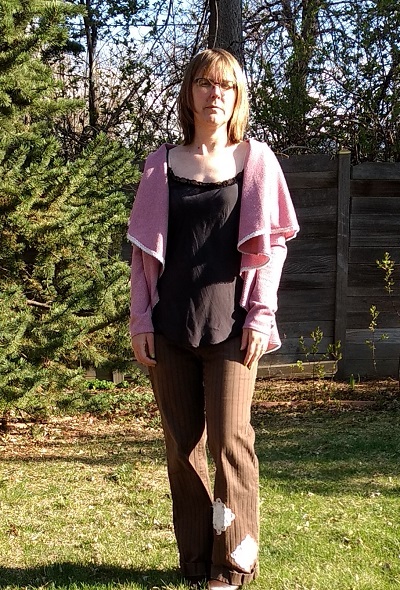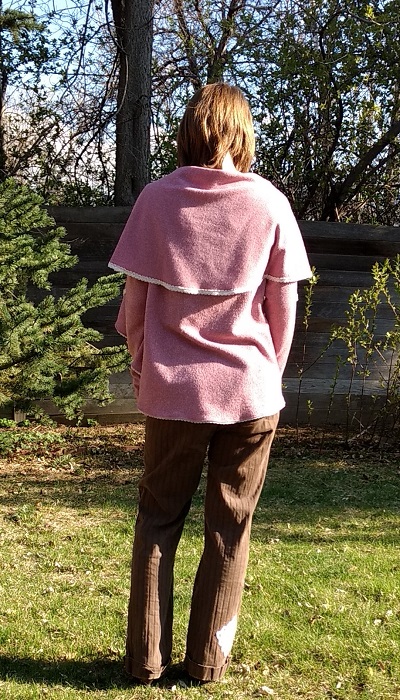 I am so in love with this one.
The pattern was really easy to follow. I was nervous to start wondering if I could get the cardigan done in time. What I found was - it was a crazy fast sew. Start to finish was only a couple of hours. I intended to use my serger, but when I read through the instructions and sat down at my sewing machine, I didn't need to move to the serger at all. Each of these was made on my regular sewing machine. It took me longer to add the lace trim on the pink one than to make the cardigan.
I have a lot of other things in the works as usual. Today, I am taking an Intro to Blacksmithing class!
I haven't strayed from Frank Turner. Seriously, I've got issues.