Drag The River Quilt after the Fair
Preview Image: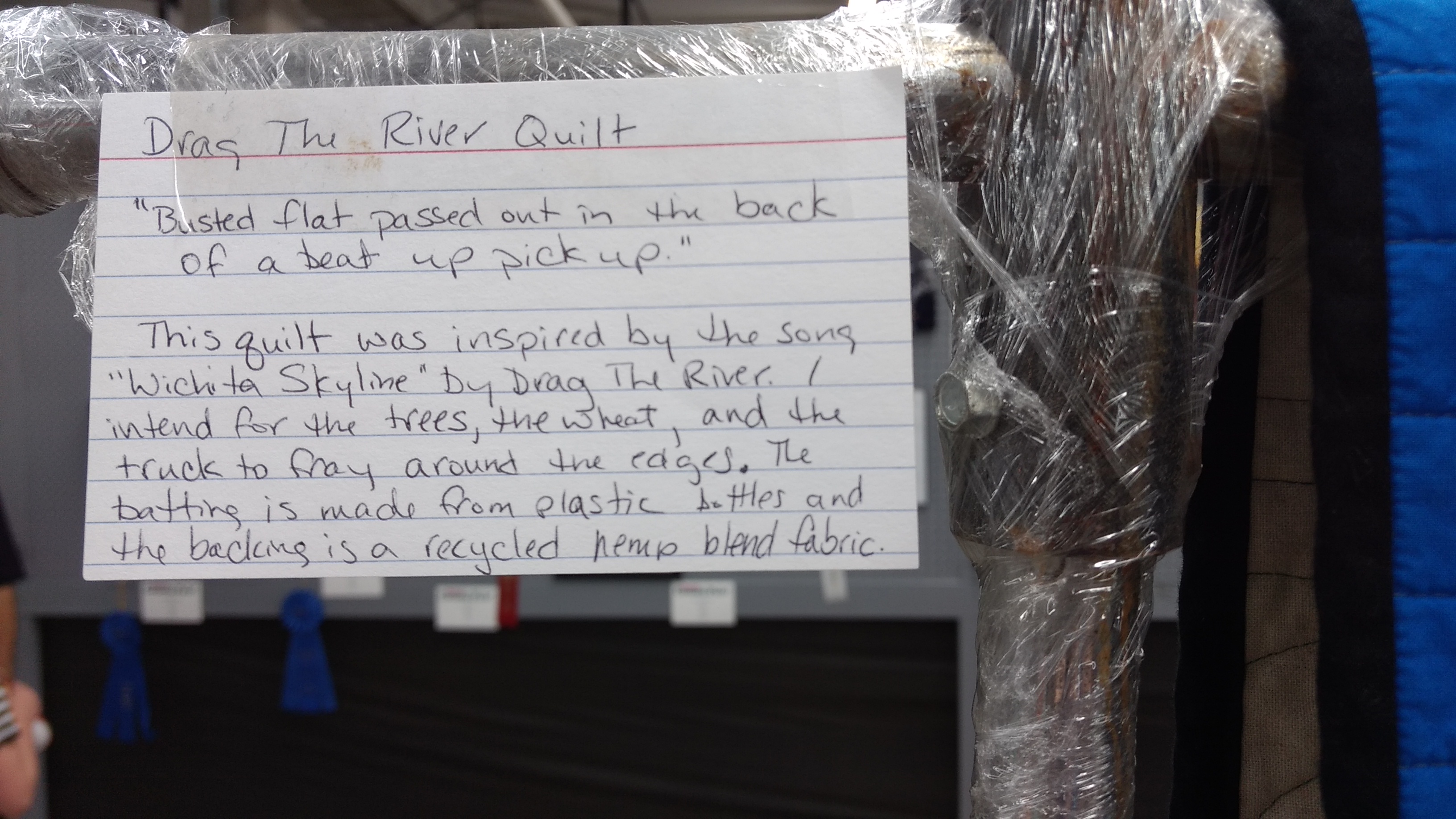 The Fair is over and the quilt is sitting in the house ready to be delivered to Jon Snodgrass.
At the Fair, I was excited to take a photo as taking photographs of quilts is a pain. BUT, they didn't hang it. It was folded over a bar. Nobody that looked at it would have seen the whole story. I was kinda frustrated. We took a picture as we took it down though, so it worked out I suppose.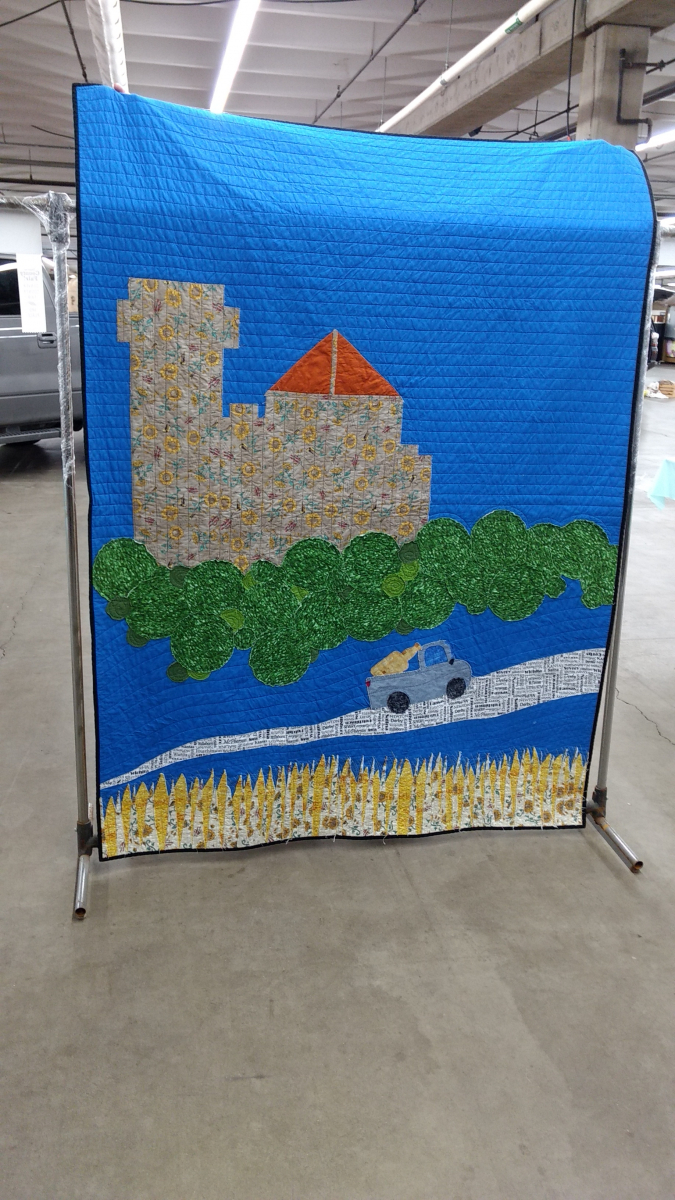 I stopped and talked with another artist that had a booth at the Fair. He was curious about the competitions, so we walked over to the tabels and eventually to my quilt. I was attempting to explain what I had done in my quilt. I talked about how the bottle in the truck is really the person - it's you when you are drunk. He told me he would have never guessed or known that. I smiled and said he obviously has never had a problem with alcohol.
"Busted flat passed out in the back of a beat up pickup."
When drawing and making the quilt, the truck was always what was important. I first toyed with the idea that I would put a stick figure in the back, but that wasn't right. I knew it had to be a bottle of whiskey. It looks more like a bottle of beer...buuuut..... things don't always translate from my brain to a quilt very easily.
I did get 2 ribbons for the quilt. I got a green ribbon - the batting in the quilt is Green Dream made from recycled bottles, and the backing is a recycled hemp blend from Hemp Traders, so I'm assuming that's why I got the green ribbon. I also got a 3rd place ribbon. LOL. There were only 3 quilts entered.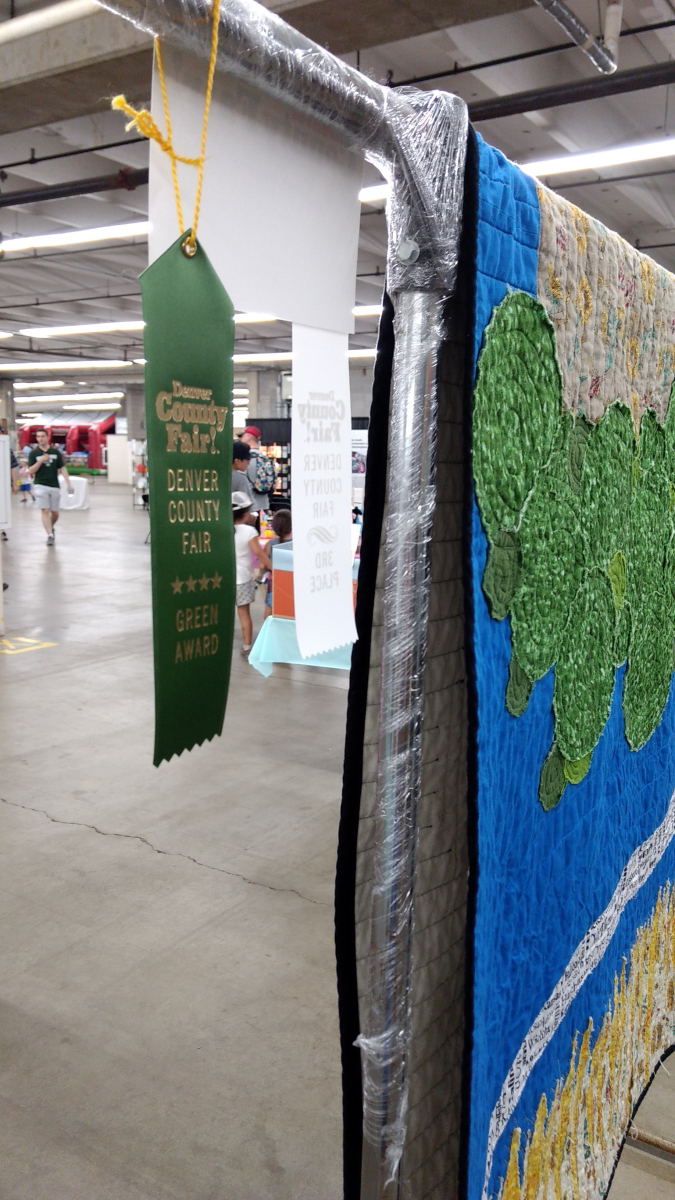 The next music quilt is in my brain. Actually, the song just came on - on my iPod. I haven't drawn it yet. It is fully formed in my head though - oddly 2 different versions. We'll see what I draw. I'm going to need a creative outlet here pretty soon. Summer is almost over.
I was listening to The Colorado Sound the other day, and they played Loyle Carner and holy smokes! He's amazing.