Challenging Myself With Sewing Up Some Spoonflower Freebies
For the last year-ish, Spoonflower has been sending out free samples when they start selling a new type of fabric. The consumer gets to pick the design, and Spoonflower prints it on whatever the new fabric is, and they send out an 8" x 8" sample. No shipping.
I have been hoarding these samples for awhile as I have no idea what to do with an 8' x 8" square of any type of fabric except put it in a quilt. I don't want to do that, besides, the fabrics I have samples of don't really lend themselves to quilting.
So here's the challenge: I have 6 samples currently. I will sew up something for each sample OR use it in a larger project over the next month or so. Currently, I have a few ideas bouncing around but nothing good. So, I will add this: I have to make something cool out of each sample - no cheating and falling back on something not cool just to say I did it. Oh, and I will NOT be using the Internet to gain an advantage. I will not be searching for 'cool small projects' online. Inspiration MUST come from myself and my environment.
Think I can do it? Care to join me? E-mail me if you want to join me: harazhandmade@gmail.com . We can't share ideas, but when we are done, we can share photos! I will post all of my own creations and any that get sent in!
Here is a photo and description of my samples: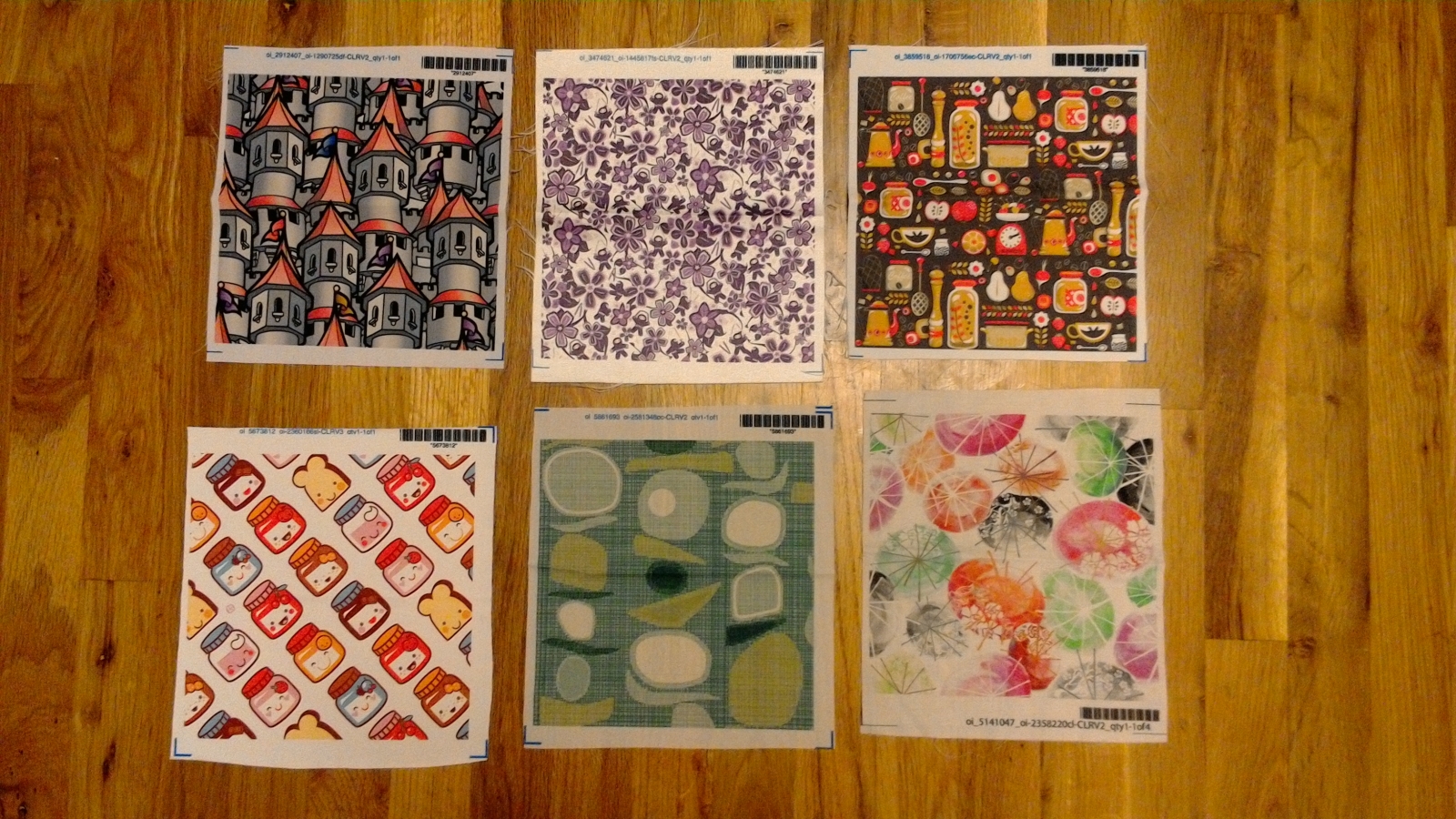 In the top left hand corner of the photgraph is "castles" by hannafate. The swatch is of the Silky Faille fabric.
Next, in the top middle is "Super Purple Ninja Warriors" by robyriker. The swatch is of the Faux Suede. It is super soft and beautiful.
In the top right hand corner is "Mum's Kitchen" by irrimiri. The swatch is of the Eco Canvas.
Bottom left is "Bread for breakfast" by bora. The swatch is of the Sport Lycra. Lovely.
Bottom middle is brand new. I received it YESTERDAY! It is called "Balance" by scrummy. The swatch is of the Poly Crepe de Chine. I am in LOVE with this one, but I have no idea what to do with it!
The last one in the photograph is "Parasols" by graceful. The swatch is Cotton Lawn Ultra.
There you have it! I have my work cut out for me.
I think this week I'll spend some time listening to the Punkaholics Anonymous radio for inspiration. It helped last weekend.
And, if you have been following G's on Jukepop, Chapter 5 is up. Check it out.