Bag and Book Pairing - Blood Heir
The first Bag and Book Pairing of 2021 (intentional this time).
Blood Heir by Ilona Andrews came out on the 12th of this month. I devoured it. I'll try not to be spoilery here, but.....?
One of my goals for 2021 is to pair each Bag of The Month make with a book. In December, I decided that I would make January's bag for Blood Heir. I was surprised on January 1st with the Mountain Saddle Bag by Emmaline Bags. I mean, seriously, it's like the stars aligned for this project. My main problem was that I couldn't work on the bag until I read the book. I ordered hardware from Emmaline and waited.
As I read, I highlighted all of Tulip's parts. It didn't help much in the beginning. I wanted to make the bag brown. It was in my head that it HAD to be brown. I mean, I LOVE brown. One of the sentences I highlighted: "Tulip tossed her head and took off down the street, a splash of white," really messed with my head. If Tulip is white and she likes to disappear and eat living things, she needs to be sneaky. Dark colors didn't seem right, but also, a white saddle bag? Umm...no. Somewhere in all of this color mess, I decided to use waxed canvas. I started looking online for waxed canvas, and I found some really pretty yellows and browns, but I would have to order them, and I didn't want to wait for shipping. My go to in town is always Treelotta. Treelotta only had black and olive, so I went back to the book. I had to pull myself out of the project which was really difficult; I like brown, but it doesn't fit with the story. I skimmed the book a bit, and I looked at the cover. Julie is wearing black on the cover. Her cloak is black. Her cloak would cover her saddle bag. So black it was. Plus, maybe the saddle bags were a gift from Uncle H. and isn't he always in black?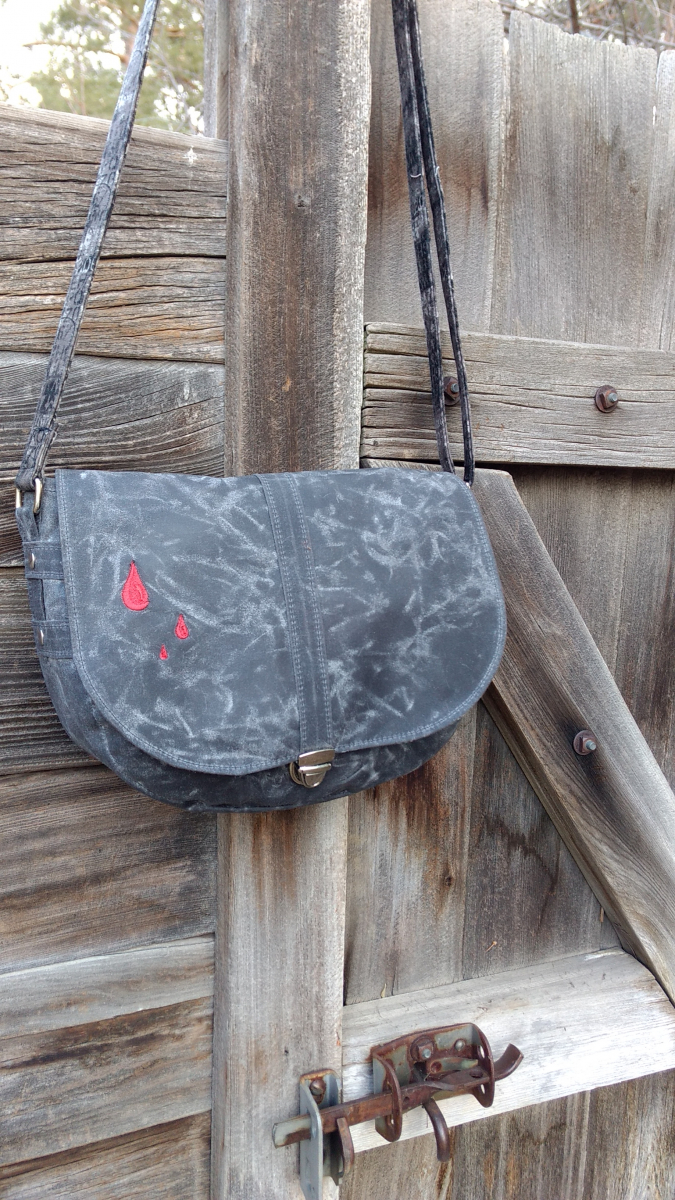 So you might be wondering 2 things: it sure doesn't look black, and what's with the red drops? Waxed canvas is super cool. It creases and automatically looks distressed. Julie has been riding awhile; her bags are distressed. The red drops are drops of blood. I embroidered them on. I bought the drop design from Urban Threads, but I think it was supposed to be a rain drop. Julie wipes Tulip's mouth a few times throughout the story. She's a messy eater. She must also get blood on other things.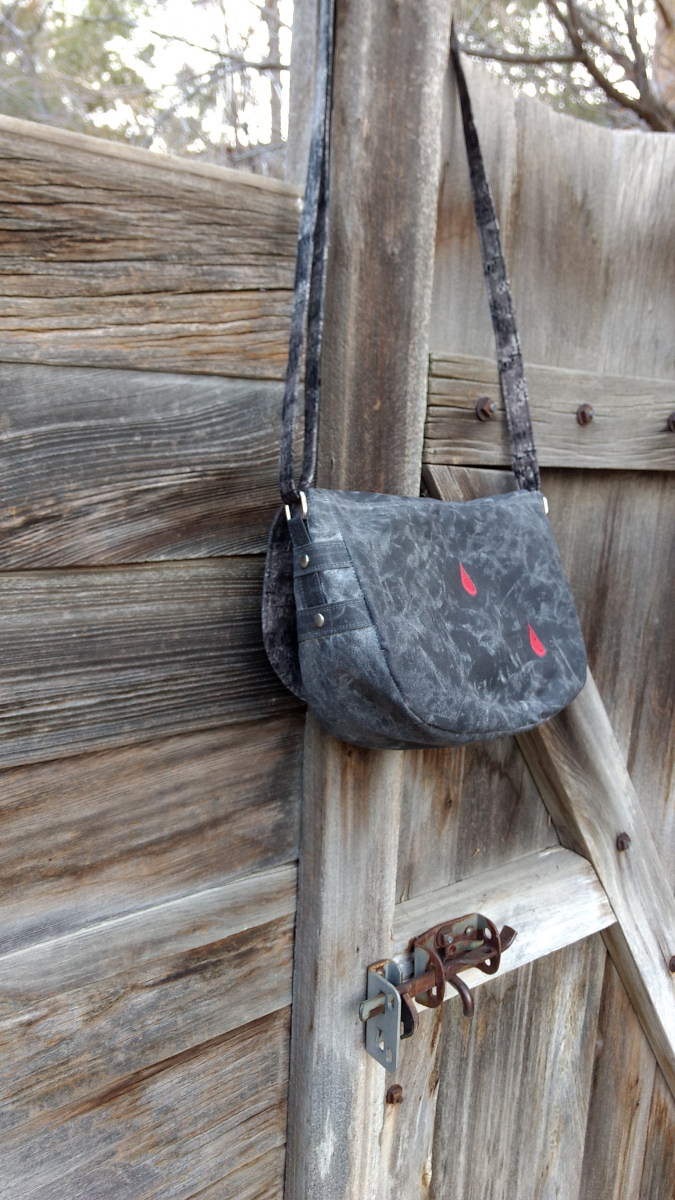 There is more blood on the back. Also, from this angle you can see the rivets I added. I struggled with whether or not there should be rivets. I don't feel like Julie is a bling kind of girl, but she IS a princess of Shinar, and she ALSO was a street kid, sooooo.....? I elected for no bling, and some simple rivets. I think the sides (gusset) turned out really cool.
The lining fabric is called Metropolis by Basicgrey. The color was spot on, and so was the title of the collection. I really like it.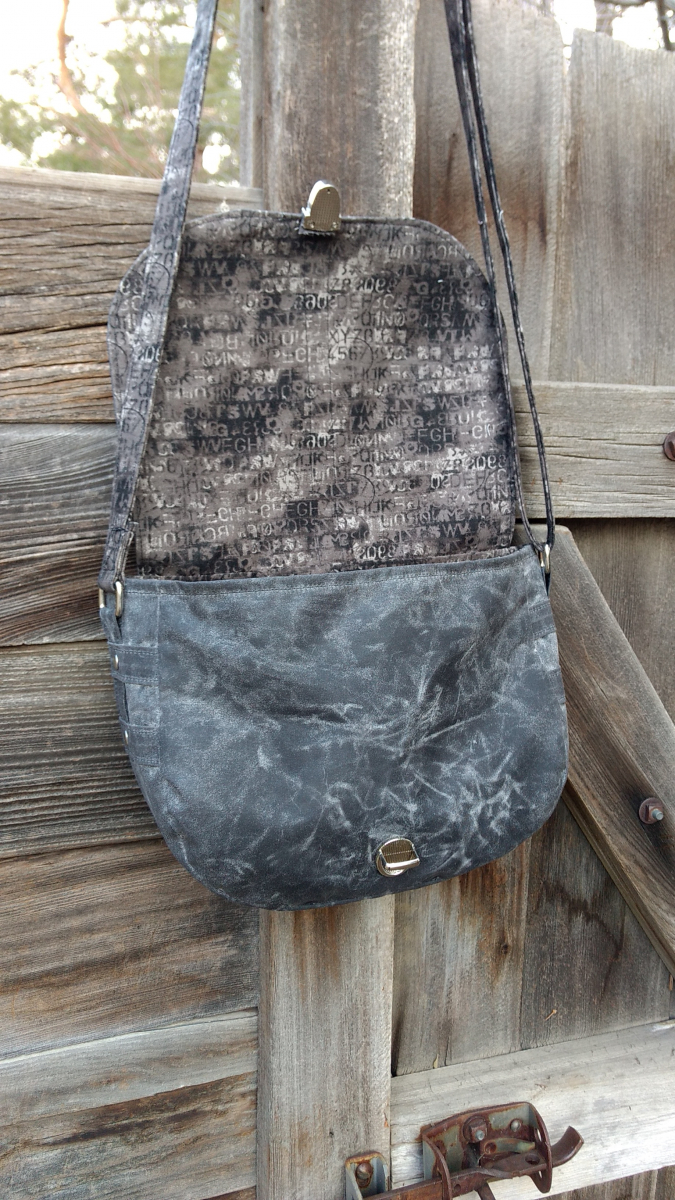 I do wish I the hardware was in gunmetal. I think the nickel is a little too shiny, but I couldn't find a thumb lock in my basement in gunmetal.
This is my first project made with waxed canvas. It was really easy to work with. No interfacing was kind of weird though, so the bag is fairly slouchy. This is the smaller size. After I took the first set of photographs, I went to the bathroom, grabbed the blowdryer, and used it on the bag. This is how it looks after a bit of heat is applied. While I was sewing the bag, I kept thinking "THIS is what those guys used to make a raft with and escape from Alcatraz!"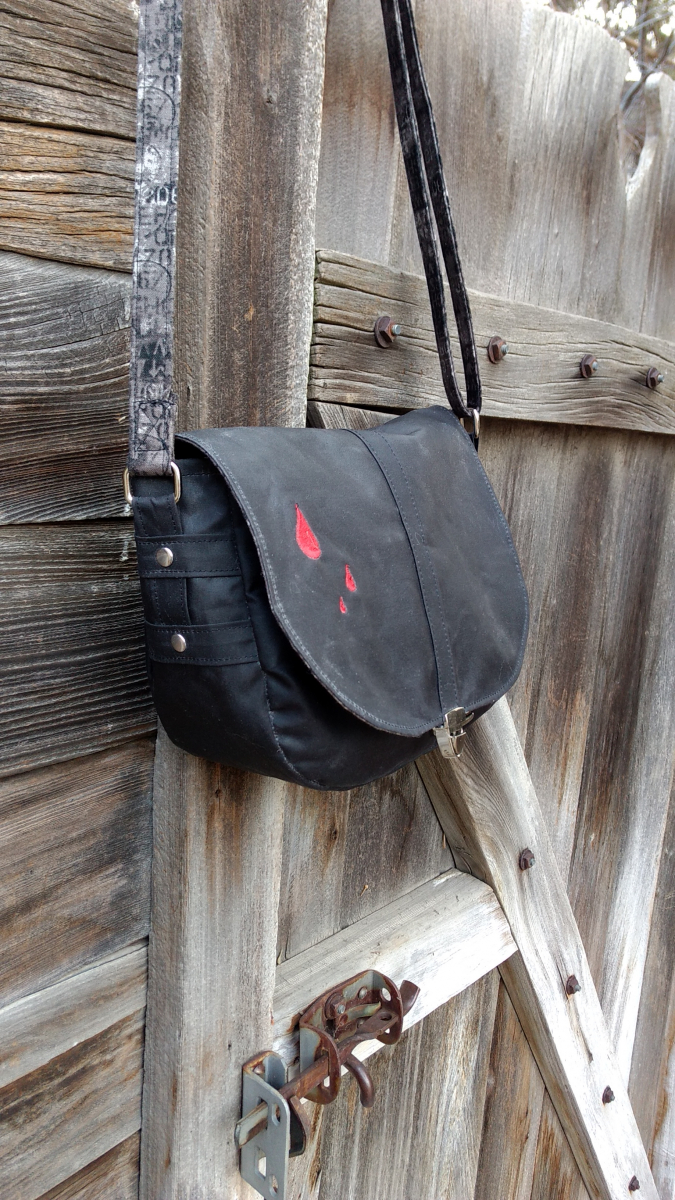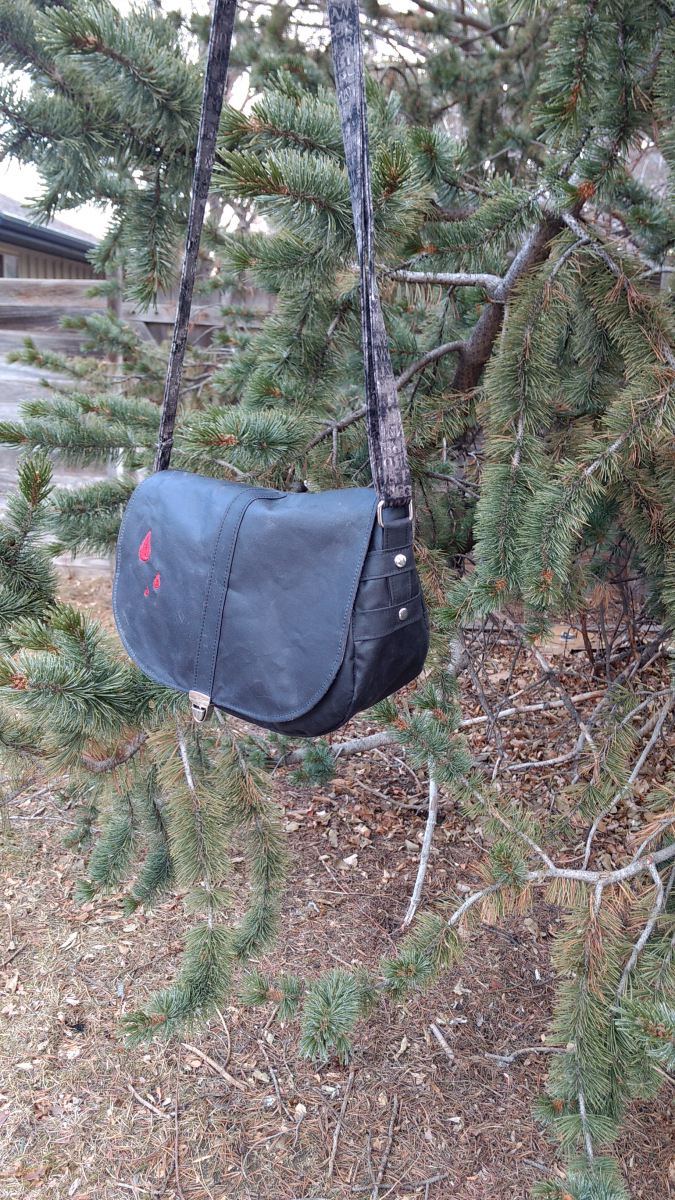 I'm super stoked with how it turned out.
I am planning on re-reading Blood Heir as soon as I'm done with what I'm reading now. If you have not delved into the Kate Daniels world, I suggest you start. KD is one of my most favorite series. I feel like I've been waiting years for Julie's story. I loved every moment of reading Blood Heir, and I am SO stupid excited for the next installment.
As for music this time around, I don't know? How about some Bob Vylan.